Save the Date
Passionist Alumni Reunion
August 16-18, 2019
Detroit, Michigan
Put it on your calendar right now so you don't forget.  Those of us who spent time together in Passionist formation at Warrenton, Louisville, Chicago, Detroit, St. Paul, St. Gabriel's in Iowa, Normandy, Missouri or St. Meinrad in Indiana, are coming together for an "all class" reunion at the St. Paul of the Cross Passionist Retreat and Conference Center in Detroit, Michigan the third weekend of August. At our age time moves quickly, so it's not too soon to give it a priority place on your summer schedule.
We hope this one will be a little different than before.  The retreat Center offers us a comfortable place to spend more time together telling those stories we have told fifty times before.  Or share the latest story about that special grandchild, interesting trip or significant life event.
Join us for a welcome reception on Friday evening.
Breakfast, break-out sessions and lunch at the retreat house Saturday morning.
Opportunities to see and enjoy a changing Detroit that afternoon. Consider some of the suggestions offered by our resident alumni or strike out on your own. Or just hang out with old friends at the Center.
Saturday evening: Gaudeamus Banquet and a "stay-down" in the dining hall.
Sunday breakfast, liturgy and departure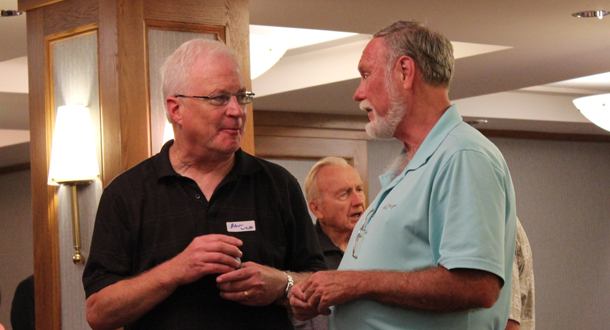 The meals, prepared and served by the renowned chefs on the retreat center team, will come as part of the $ 98/person "package deal "—a value at twice the price.
So, bring your spouse or someone else special in your life.  They are guaranteed to forge new friendships and rekindle others built up over years of rolling their eyes at "that great story" from back in the seminary.  "Did I ever tell you the one about…"   "Yes, dear but I will need another glass of wine before you start."
There will be a variety of overnight accommodations from which to choose.
Single accommodations will be available at discounted prices at the retreat house itself.
Two hotels, minutes away, will offer special package rates for Passionist Alumni. America's Best Value hotel is offering stays for only $ 65 per night. Holiday Inn Express will be an option too probably somewhere in the $ 110 range (yet to be determined.)
We are finalizing the details and negotiating the best deals possible right now.  Once we do, we will publish a special edition of CrossRoads dedicated to everything "reunion." We will post a registration form to down load and send one in the mail as well.
Keep an eye out for the details.  But don't wait either.  Put it on the calendar. NOW!