Scripture: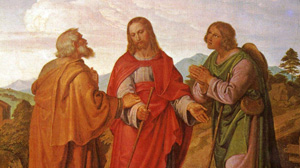 Acts 2:14, 22-33
1 Peter 1:17-21
Luke 24:13-35
Reflection:
In our gospel, we heard that the risen Jesus joined up with two disciples journeying to Emmaus.  Although they didn't recognize him at first, there must have been an initial liking between Jesus and the two travelers.  They enjoyed his company, his words, and they invited him to stay with them overnight.
Then in the breaking of bread, they recognized who Jesus really was.  After Jesus left them, they went forth to spread the good news of the Resurrection.  This experience was the beginning of their lifelong journey into the joy of the Lord.
Imagine what it must have felt like to be in Jesus' company that day.   Yet each Sunday can be for us a sort of journey to Emmaus.  First we have the Liturgy of the Word, the Scriptures to enlighten our minds. And then we have the Liturgy of the Eucharist, the breaking of bread, and union with Jesus in Communion.
Like David, quoted in our first reading, we can say, "You have made known to me the paths of life; you will fill me with joy in your presence" (Psalm 16:9).
Then like the two disciples we go forth and proclaim the good news:
The good news of God's power in conquering death.
The good news of God's love in forgiving sins.
The good news of God's fidelity in fulfilling his promises.
The good news of God's desire to be with us in the Holy Eucharist.
The good news of the Holy Spirit.
We are an Easter people and Alleluia is our song.  We are an Emmaus people and "Thank You" is our prayer.

Fr. Alan Phillip, C.P. is a member of the Passionist Community at Mater Dolorosa Retreat Center, Sierra Madre, California.   http://www.alanphillipcp.com/