Scripture: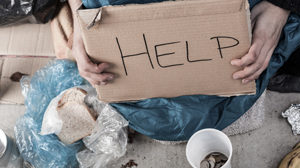 1 Corinthians 2:10b-16
Luke 4:31-37
Reflection:
Does this sound familiar?  "May I have a word with you?"  "Put in a good word for me."  "Mark my words!"  "And now a word from our sponsor."
 Words can amuse and anger, bless and course, charm and repel, heal and hurt, unite and sever.  Words have power.  Words change things.
Words gave birth to a new nation: "We hold these truths…"  Words led to the death of millions in World War II: "Zieg Heil,"
Before an altar the words, "I do," are spoken, and a man and woman become one in the sacrament of Marriage.
During Mass words are spoken over bread and wine: "This is my body.  This is my blood."   And we adore the body and blood of Christ.
In the sacrament of Reconciliation, words are spoken: "I absolve you from your sins…"  And a lifetime of guilt is removed.
In the beginning of the gospel according to John, we read, "In the beginning was the Word, and the Word was with God, and the Word was God. He was in the beginning with God.  All things were made with him, and without Him was nothing that has been made."
God expresses himself in a Word that is a Person.  Jesus is the self-revelation of God.  And what does this special Word of God express?  Jesus' life, death and resurrection proclaim, "God so loved the world…."
In today's gospel, Jesus spoke:  "Come out of him." And the unclean spirit left the possessed man.  The people wondered, "What is there about his (Jesus') word?"
Yes, there was power in Jesus' words.  And now, by baptism we are the living "words" of Jesus.  He sends us forth, scattering us about as a farmer scatters seeds all over a field.
We are to choose carefully the words we speak.  We are to choose words of love: "Welcome." "How can I help?" "I believe in you." "I'm sorry." "I forgive you." "Keep up the good work." "Thank you." "Tell me more." "We can work this out." "You're beautiful." "God bless you."
If our words soothe and heal, give support and encouragement, build community and express the truth, Jesus' power will continue to be manifested in our time.

Fr. Alan Phillip, C.P. is a member of the Passionist Community at Mater Dolorosa Retreat Center, Sierra Madre, California.   http://www.alanphillipcp.com/