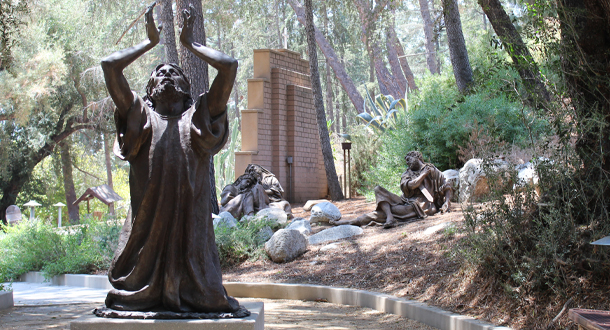 Scripture
1 Thessalonians 5:1-6, 9-11
Luke 4:31-37
Reflection:
There's a lot of stuff in my house right now. It used to be that there was some room here, but in the time of pandemic, the home has also become my office, my studio, a school, a dance & rehearsal hall, a bar, a restaurant… There have been so many new items I've needed to add to the house in order to make all of these things work it just makes my head swim! And with a small place already overrun with my daughter's and my clothing and other possessions, there's just no room for anything else.
And for me, there's a struggle that arises with this.  See, there's just so much in need of attention that it really lays a heavyweight.  Move this, clean that.  Adjust here, feed that animal.  When was garbage day?  Oh, and the Church needs this right away.  Puccinelli, your daughter is calling you… You need to move that microphone to get past the piano so you can get into her room…  Don't forget to record that piece and take that video… Even though most of it is necessary for both work and life, the fact that my living space has transformed into a home to so many other functions that it has become an almost overwhelming darkness.
It's not unlike my heart. There are things I store there from years gone by. There are ancient pains on to which I hold that clutter and take up valuable space. Dust and debris of past hurts and horrors which only serve as demons that eat away at and erode my joy, my love, my spirit, my passion.
You too?
In today's Gospel (Luke 4:31-37), Jesus was teaching in the synagogue when a man possessed with a demon yelled, "What have you to do with us, Jesus of Nazareth? Have you come to destroy us? I know who you are–the Holy One of God!" Jesus said, "Be quiet! Come out of him!" and the evil spirit left him, doing no harm. The people who saw this said, "He commands the unclean spirits, and they come out."
I think we all have "unclean spirits" which take up residence inside us.  Demons of our yesterdays can possess us like cluttered items can steal our peaceful homes and hearts.  But God wants so much for us to be free that Jesus silences them and commands they depart from us.  In a world of hostility, violence, and hate, Jesus calls us to love one another and live in harmony and peace.  It is this great Love of God that is the true vaccine we need most in our lives.
Cleaning out our hearts can quite a challenge, but it is in the emptying ourselves of these things which make us able to create space for good… Space for God.
Dear Lord – thank you for wanting us to be so full of joy, and full of love.  Grant us the strength to allow Jesus to dispel the dark shadows that live in our lives and replace it only with the great light of your most holy presence. Amen.
Peace and love to you today, and forever.
Paul Puccinelli is Director of Liturgy & Music at St. Rita Parish in Sierra Madre, California, and a member of the retreat team at Mater Dolorosa Passionist Retreat Center.