Scripture: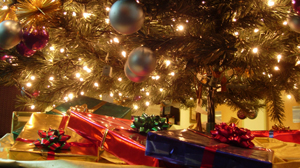 Acts 6:8-10; 7:54-59
Matthew 10:17-22
Reflection:
With the earlier and earlier onset of Christmas, we easily grow weary of carols on the radio and decorations at home and work. By the time December 26 comes we might already see discarded Christmas trees on the curb or next to dumpsters. Time to move on.
With all the lead time we now take that brings us to Christmas Day, we can lose sight of the fact that the Christmas Season really only begins on Christmas Day. We don't seem to be eager to celebrate the Nativity of the Lord through to Epiphany and the Feast of the Magi. We're tired by Christmas Day and choose to focus on the New Year.
I was amused at one Christmas Midnight Mass a few years back when the celebrant wove together into a bizarre narrative the story of Santa Claus and his Reindeer and the Nativity stories of the Gospels. Santa being born in a manger. Angels appearing on a sleigh. He painted all sorts of silly images by melding the two holiday narratives into one.
His point was really well made. The two stories are not the same. The tradition of Santa Claus, now quite devoid of any ties to Saint Nicholas and his generous gifts to the poor and children, has seemingly overtaken the Nativity. The first is about gift giving. The latter is about The Gift. The first is about quickly unwrapping gifts on Christmas Eve or in the morning. The latter is about a Gift that can never really be unwrapped.
On this first day following upon Christmas, perhaps we can gaze upon the Gift and ponder what difference this Gift will make in our lives. Just be still, just be present as the shepherds were. Let's open our hands and our hearts to receive God's Gift of Love, the Christ Child. Let's enjoy this Christmas Season that takes us into the New Year and far beyond.

Robert Hotz was a consultant with American City Bureau, Inc. and  was the Director of The Passion of Christ: The Love That Compels Campaign for Holy Cross Province.