Ash Wednesday
Scripture: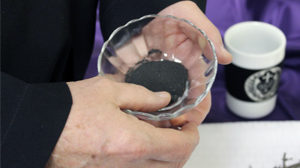 Joel 2:12-18
2 Corinthians 5:20-6:2
Matthew 6:1-6, 16-18
Reflection:
It is a human desire to want meaning in our lives and our deaths. We want to make a difference, and to leave a legacy behind. I remember riding in the car from the church to the cemetery on the day of my husband's funeral, and I was shocked that people were going about their daily lives – shopping, gardening, and playing in the yard. I thought the world should stop, that flags should be lowered to half-mast, and everyone should note the death of this wonderful man.
After John died, our friends and colleagues were determined to make sure he did not "die in vain." I've heard that phrase used so often, as we build memorials or foundations, rally to win a game or a season in their memory, or place their name on a building or street. In this case, John and I had done a lot of work with high school youth. So the town's Jaycees created a scholarship in John's name that would be given annually to a high school senior who showed outstanding service to others. I was deeply touched; especially when the first scholarship was awarded to a young woman we were particularly fond of who had truly stood out.
Yet, it has now been 35 years since John died, and 29 years since I moved away from the town. Neither the young people who receive the scholarship today nor most of the people giving the scholarship have a clue who he was or what his life meant. As I think about all that happened then and since, I've come to see that our lives are indeed lived in vain if all we leave behind are scholarships, awards, and recognitions with our names on them. Our lives and deaths are never in vain if we touch people's hearts.
The young people John touched were forever changed by him, and that is how he lives on. I am a different person because John loved me, and that is how he lives on. His son is a funny, gracious, caring man, and that is how he lives on. Even though John's life was far too brief, he did not live in vain, in ways that are more meaningful than any recognition or scholarship.
We are told today not to receive the grace of God in vain. While some of us may be called to do so, that doesn't mean we have to proselytize on the street corners, or even work for the church. It doesn't mean we have to lead fund-raising drives or be in the news. It certainly doesn't mean we need to ensure we garner attention and praise for our service or our faith practices.
In fact, more often than not, it means we lead quiet lives focused on being fully transparent instruments of the grace we have received. It means we rend our hearts, not our garments, and allow God to change and mold us. It means we pray constantly, give alms, and love without measure. It means we consciously look for the divine in every person, even those who are different from ourselves, and that we treat each one with the dignity and respect due to Christ himself. It means we receive our "recognition" in smiles, hugs, and the knowledge that the love we give will be given to someone else in return.
As we begin Lent today, perhaps we can refocus on what it truly important, and renew our commitment to serve. May we live each day conscious of our privilege and responsibility as children of Love itself, and allow God to form us through this holy season, so we may not receive the grace of God in vain.

Amy Florian is a teacher and consultant working in Chicago.  For many years she has partnered with the Passionists.  Visit Amy's website: http://www.corgenius.com/.