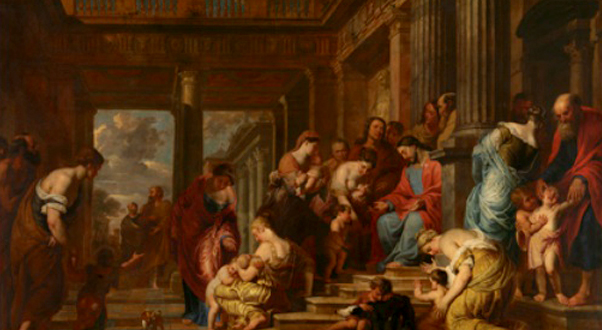 Scripture:
Reflection:
The psalm response during the Liturgy of the Word too often is but an unremarkable interlude between the first reading and the gospel. But today's Psalm 141 deserves some quiet consideration.
I can hear the sung refrain, "My prayers rise like incense, my hands like an evening offering" that monks chant at the end of the day. It is a quiet pleading, entrusting ourselves to God. We come as we are yet aware of who we want to be. Perhaps the day was not perfect. We did not love as we could have. Our words were more sharp than kind. But that does not keep us from surrendering ourselves to the love and mercy of God. Just like the children in today's gospel selection.
We're attracted to the kind of free expression as the children whom Jesus bids come to him. Can we imagine ourselves rushing up to Jesus and hugging him? Can we imagine, like Mary Magdalene, washing his feet? Or like John, laying our head on Jesus' chest? Prayer too often is translated into "saying our prayers." I like to think of it as "doing prayer." Prayer begins with showing up, simply wanting to be with the Lord and opening ourselves to his love that melts away the sadness of sin and disappointment. Prayer is as simple as reconnecting with God who, as Jesus does in the gospel, "embraced the children and blessed them, placing his hands on them."
Robert Hotz is a consultant with American City Bureau, Inc. and was the Director of The Passion of Christ: The Love That Compels Campaign for Holy Cross Province.