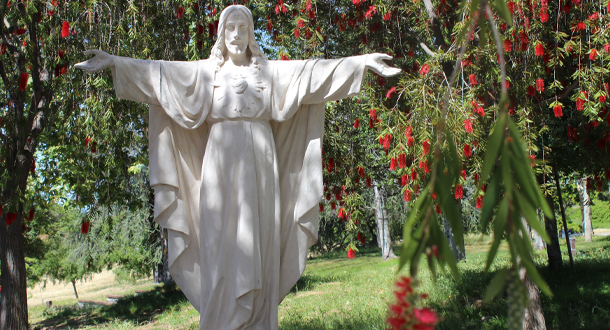 Scripture:
Leviticus 19:1-2, 11-18
Matthew 25:31-46
Reflection:
I was sitting in a parking lot late the other night, waiting for my husband's vehicle to be towed. He had been trying to deliver a work van to a store, and the van died at the top of a ramp, so he coasted down into this parking lot. We were in a part of town that wasn't familiar to us, with several people loitering around the area. As he talked with the wrecker driver, a man in a wheelchair rolled up to the passenger side of my car. He had this beautiful smile and was asking me if everything was ok. I nodded yes, smiled back, and figured he would roll along. But instead, he came to the driver's side where I was sitting. He had a kind face (I know, those of you who are safety-minded like I usually am are now cringing). But he started talking to me about his name – they called him Futt (pronounced foot) – he said it was because he didn't have any toes on one foot. I rolled my window down, as I tried to follow his story.
And then, he started singing this beautiful melody, and after a few seconds I started harmonizing to him. I prayed that I would remember the tune, but I cannot. And then he stopped singing and he said, "I wish everyone could have a Christian spirit like you. I wish everybody would stop seeing black and white people and just see people. I wish we could just all be one together."
When my husband got back into the car, I shook Mr. Futt's hand. He asked if I could spare a couple of bucks so he could get a burger, and I obliged. I shook his hand again and thanked him for the few minutes we got to talk to each other and share some music. I couldn't stop smiling as we drove away – and I didn't feel happy because I did something nice. I felt honored and blessed – honored and blessed that someone shared themselves in such a beautiful way with me and trusted me to be kind to them for just a few moments.
"For I was hungry, and you gave me no food, … a stranger and you gave me no welcome." Be Christ to others. Don't worry about their color, their wealth, or their clothes. Let God bring people into your path who you can share even a moment's joy with and give yourself the opportunity to feel the blessing of kindness to another human being.
Patty Masson is the Director for Adult Formation and Evangelization at St. Ignatius of Loyola Catholic Church in Spring, Texas.