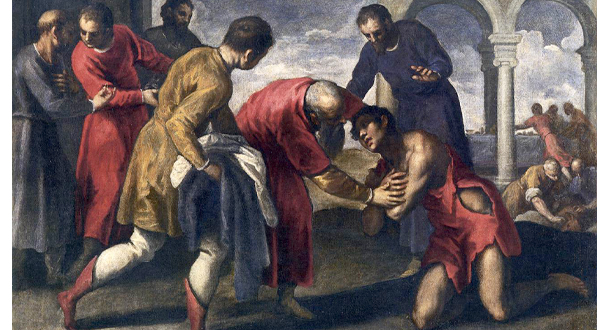 Scripture:
Micah 7:14-15, 18-20
Luke 15:1-3, 11-32
Reflection:
The parable of the prodigal son is so familiar a story that it is understandably tempting to automatically tune out, as in heard that story, know that story, end of story. The most common interpretation of this parable is the allegorical application. The prodigal son represents the sinners with whom Jesus was eating. The older brother represents the scribes and Pharisees who resented the unsavory company Jesus kept. The father represents God receiving those sinners who return to him.
During this Lenten season, however, perhaps a more meaningful approach to this parable may be one in which we examine relationships – with one another, and with God.
The prodigal son
Did the prodigal son make sinfully wrong choices? Yes. In his actions, this son abused and breached his relationship with his father. He demanded his inheritance early. He insisted on taking full control of his own life. He rebelled against his father. The son effectively rudely, thoughtlessly, and hurtfully shoved his father aside. The son departed to a "distant country" and consequently became lost, not because he did not know the way home, but because he had wasted his father's gift, the gift of his relationship with his father. He was found only when he "came to his senses" and returned to his waiting father to seek forgiveness and reconciliation – that is, when he returned to the embrace of his father's loving relationship.
The father
A key point in this relationship is that the father waited, no ran to his returning son, aching and rushing to reestablish their relationship. The father neither chastises nor punishes his son. Instead, he lavishly, wastefully, extravagantly, prodigally, had him dressed for a huge welcome home party.
The elder son
By contrast, the older, self-righteous brother is relationally alienated from both his brother and his father. Notice the words "this son of yours." The elder brother refused the father cajoling and begging that he rejoice in his brother's return. Instead, he angrily rejected any relationship with his younger brother. The gospel writer, Luke, challenges us to reflect on who is the truly lost brother, who is the one missing in a far country.
And us…
Can we see ourselves in each of these brothers? At times, are we not the ones lost in sin, alienated from God the father, yet to accept God's extravagant gift of grace, to come to our senses, to repent, to return to a loving relationship with him? And at times, sadly, do we not fall into the behavior of the elder brother, righteously smug in our faith and in our literal obedience to God's commands, that we lose our compassion, our understanding, and forgiveness of others. We lose the loving relationship God desires us to have for one another.
…During this Lenten season
And during this Lenten season, can we see God the father? He is the one who gives us the freedom to choose him or reject him, but who waits patiently, ready to embrace us in welcome, ready to shamelessly cajole and beg us to love and forgive one another. Why? Because, in God, we are called to have an extravagant, prodigious loving relationship with one another as brothers and sisters – you know, the kind of relationship he has for us.
Deacon Manuel Valencia is on the staff at Mater Dolorosa Passionist Retreat Center, Sierra Madre, California.