Scripture: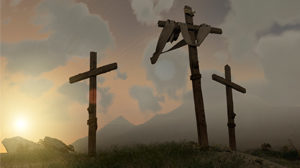 Reflection:
No Greater Commandment
Today's Gospel opens with a question of a scribe:  "Which is the first of all the commandments?"  The question presented to Jesus by the scribe was not an idle one, for the rabbis of the time had determined that there were 613 distinct commandments in the law – both great and small, and very great and very small!  Sadly, some observed merely the letter of the law without regard to its spirit, despite the warnings of the prophets throughout Israel's history.  No doubt, the scribe was searching for a deeper understanding.
Jesus' answer, put simply:  Love God…with all your heart, soul, mind, strength!  And…Love Your Neighbor…as yourself!  That's it:  the letter of the Law and the spirit of the Law, simply stated…and supported by the teaching and example of Jesus himself.
Years ago, we in the Church were presented with a number of smaller rules and regulations for the disciplined living our Christian life…even the Lenten season.  Fasting, abstinence and even decorum in church had us watching our watches, measuring liquids, avoiding meat flavoring, and covering our heads and folding our hands.  These rules served a purpose, and today spark a variety of memories both meaningful and at times humorous.
We continue to have our "guidelines" for Life and Lent and Holy Communion (today, Friday in Lent:  abstinence from meat).  And yet we enjoy a greater freedom that encourages a more mature and fruitful love of God, neighbor and self:  to be people of ever greater intimacy with God, to take an active interest in others – especially to the neediest of our sisters and brothers – and to have a healthy love for self that encourages fulfillment in the living of our vocations.  True love of God, neighbor and self is open to all sorts of expression, in areas of life both great and small.
As we continue our Lenten journey and today hear Jesus' encouragement to love, I'm reminded of my patron saint, St. John the Apostle, who tradition has lived to a very old age.  He became so weak that he had to be carried to the celebrations of the Eucharist, and his advanced age also limited his preaching.  Nonetheless he insisted on sharing this same message at each celebration:  "My children, love one another."  Questioned about this repeated (and often boring) message, he calmly replied that he was simply repeating the command of Jesus…love!  The all-inclusive command.
As Hosea stated today:  God loves us freely.  Jesus Crucified shares that love with us this Lenten season.  May that Love transform our lives, and our world!

Fr. John Schork, C.P. is a member of the Passionist community in Chicago, Illinois.