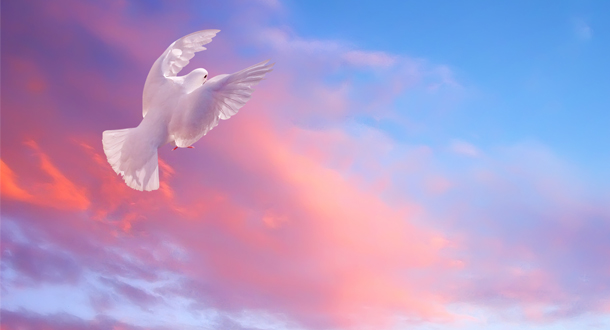 Scripture:
Acts 2:1-11
1 Corinthians 12:3b-7, 12-13
John 20:19-23
Reflection:
Happy Birthday, Church!!!
Jesus has risen from the dead! Alleluia! Alleluia! Alleluia! Last week we celebrated his ascending back to his father in heaven. This week we celebrate the fulfillment of his promise to us that he would send a powerful Spirit to be with us until the end of time! What an awesome gift he has given us!
For those who know me, they have heard this favorite saying of mine concerning the Holy Spirit. It goes as follows, 'Holy Spirit? She be my best friend!!' Whether we realize it or not, the gift of the Spirit in our lives is a gift that keeps on giving no matter the situation. The gifts of the spirit poured upon us in the sacramental life of the Church include; Wonder, Understanding, Counsel, Fortitude, Knowledge, Piety and Awe/Respect of the Lord. These gifts serve as take-offs for the many different ways the spirit acts in our lives.
If we were to look back in the life of the Church as well as our own lives, we could see the many instances where the presence of the spirit was and continues to be with us through the highs and lows of life. Throughout the history of our church, there have been conflicts, persecution, heresies, controversies, invasions, Dark Ages, and insurrection. Our scriptures during the Easter Season have been filled with the rough and tumble days the apostles experienced in the early days of the Church. But, the Spirit was present then as she is now! I recall with a smile a favorite reminder that our Early Church History professor would share at least once in every class period when the discussion centered around the dark days of the early church up to the present day. He would gleefully remark, don't worry about the church of today, 2000 years ago they had the same problems! And, look 2000 years later! We're still here!' Trust the Spirit!
The spirit ultimately gives us hope, trust and security and walks with us through our daily lives fraught with human frailty. God calls, the Spirit guides and faith reminds us that our task is to trust her and let her guide us to become the person we have been created to be. Maybe as we celebrate this Pentecost birthday, we might take some time to reflect on this question:
What fresh start is God calling me to make with the help of the Holy Spirit in my life?!
The Holy Spirit, she be my friend always and in all ways! Happy Birthday, Church! Amen!
Theresa Secord is a retired Pastoral Associate at St. Agnes Parish, Louisville, Kentucky.