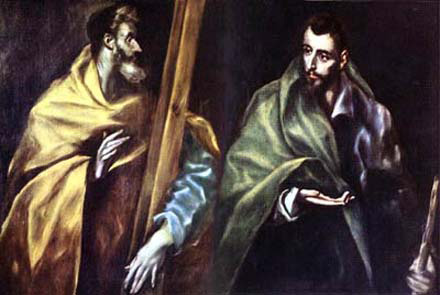 Feast of Saints Philip and James, Apostles
Scripture:
1 Corinthians 15:1-8
John 14:6-14
Reflection:
He is our way, our truth and source of our life.
In our gospel today, Jesus not only announces that it is through him that we come to know and understand God, but he also reveals something of the depth of his relationship with the Father.
While we do acknowledge the mystery of God and the life of the trinity, we can take such consultation from the words of Jesus today. He reminds us powerfully that our search for God and our attempts to describe God begin and end in knowing him.
While the mystery of God will always be beyond human understanding, but in our seeking to know Jesus we do have a way into this mystery. Perhaps it is better put if we say that knowing Jesus is our way into living this mystery.
For at its heart that is the Christian task. The more we live with Jesus, through Jesus, and in Jesus the greater will be our perception and understanding of God. But the key is living a life that centres itself on Jesus. He is our way, our truth, and our life.
Today, to we might also spend a moment reflecting on the intimacy of the relationship Jesus shares with the Father. It is a living intimacy, one that is shared most fully with us as life giving works. What is more, this intimacy spills over into our world and our daily lives – we share in its richness. The promise of Jesus is that we may approach God in his name and that he will forever be our advocate and act for us.
Philip and James the apostles featured in today's liturgy, remind us that being in the company of Jesus is the way for us to learn and understand. The entire dialogue between Jesus and the disciples, and us as we read and listen today, is a revelation.
Indeed, perhaps this is an approach for today. John's gospel – particularly through passes such as today's reading – invites one to stop and contemplate the words of Jesus. Let us be still and quietly allow the words to wash over us, listen to what resonates and respond from your own heartfelt relationship to Jesus. He awaits us.
Fr. Denis Travers, C.P., is a member of Holy Spirit Province, Australia.