Scripture: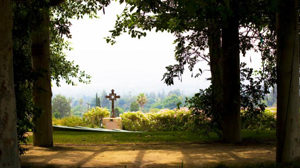 1 Maccabees 4:36-37, 52-59
Luke 19:45-48
Reflection:
What a startling contrast there is between the way the Maccabees look at the temple and the way the "chief priests, scribes and leaders of the people" in today's gospel view it.
In today's first reading we are told that as soon as their rebellion against the Seleucid empire was successful, the Maccabees restored the temple and traditional worship, built a new altar and made their burnt offerings and sacrifices of praise.  For the Maccabees the temple was the place where God dwelt and deserved reverence.  Restoring the temple filled them with joy and gladness so much so that they celebrated the restoration every year after that.
In contrast to that reverence and joy, the chief priests, scribes and leaders of the people of Jesus' time seemed more concerned about using the temple as a place of commerce.  The sense of the sacred is so obviously absent that Jesus becomes angry and drives the merchants and money-changers from the temple courtyard.  Their response to Jesus' outrage wasn't shame, but rather self-righteousness and a desire to destroy Jesus.
Quite a contrast!
These two stories got me thinking about my own attitudes toward the Church.  For us the Church is the place where God dwells.  Of course, the Church is more than a building or even a set of buildings.  It is the body of Christ.  And, we all are constituent parts of it.  But together with Christ we are the place where God dwells.  We are sacred.  We are the place where men and women meet God.  Restoring the temple brought joy and gladness to the Maccabees.  Does being the place where God dwells fill me with joy and gladness?   Do I look to the Church to find God?  O God, please give me eyes to see!
Fr. Michael Higgins, C.P. is the director of Mater Dolorosa Passionist Retreat Center, Sierra Madre, California.