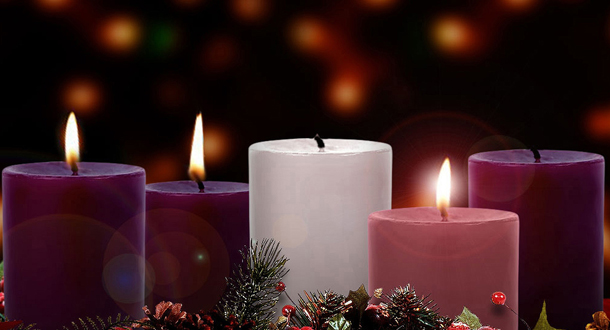 Prayer of Joy
 Loving God,
Christmas is almost here!
Fill us with the joy of this season!
 Fill us with the joy Mary and Elizabeth felt
when they reunited after Mary was told
that Elizabeth, long considered barren, was with child.
The baby Elizabeth was carrying,
who would be known as John the Baptist,
"leaped for joy" in his mother's womb
when she heard Mary's greeting.
 Elizabeth declared Mary "blessed,"
for she had believed that what was spoken to her
"by the Lord would be fulfilled."
Help us believe that Your promises to us
have been fulfilled in Jesus.
May we rejoice in Him. Amen.
Scripture:
Isaiah 35:1-6a, 10
James 5:7-10
Matthew 11:2-11
Reflection:
Father Clemente Barrón, CP, shares his reflection Joy in English and Spanish. Father Clemente is the Director of Hispanic Ministry for Holy Cross Province.
English:
Spanish:
A Thought for Joy
O God who in the beginning made all things
and who in time made all things holy with your presence,
help us this Advent to see, to touch, and to taste your goodness.
–Caryll Houselander, A Child in Winter, pg. 51
Call to Action:
Make time to have a one-on-one conversation with someone you have wanted to "check in on."  Give them your full listening presence