Hispanic Outreach Ministry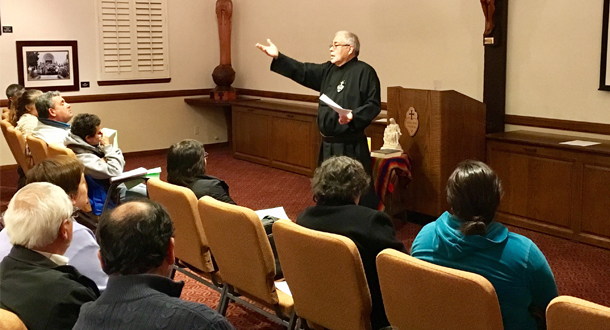 A Passionist's Tale of Two Cities
Fr. Clemente Barrón, CP, is giving new meaning to Charles Dickens' phrase "A Tale of Two Cities."  From as far away as the Southern California beach city of Santa Monica, as well as the San Gabriel Valley, nearly 45 Spanish-speaking women and men came to Mater Dolorosa Passionist Retreat Center in Sierra Madre to participate in Fr. Clemente Barrón's "Breve Retiro", an evening of prayer and recollection in preparation for the Lenten Season.
Just days earlier, in another city, Citrus Heights, at Christ the King Passionist Retreat Center, Fr. Clemente had led a similar "Breve Retiro."  And at both retreats, he announced another "Breve Retiro" on the theme of embracing the Cross like Jesus. In Spanish: "Abrazar la Cruz como Jesús." The evening at each retreat will include the outdoor Stations of the Cross.
For more than a year, Fr. Clemente has been building on the good work already begun at the retreat centers in Sierra Madre and Citrus Heights, Calif.   A vibrant community of Spanish-speaking Catholics surrounds both Passionist Retreat Centers, and in fact, both dioceses have very large Spanish-speaking Catholic populations.
Fr. Clemente's outreach actually began on September 1, 2015, when he was assigned as the Director of Hispanic Ministry for both retreat centers. He lives at Christ the King Retreat, but he spends half his time there and half at Mater Dolorosa.
Through his efforts both retreat centers offer opportunities for its Spanish-speaking brothers and sisters to experience the Passionist charism through various spiritual events.  In addition to the Breve Retiros, the events include weekend retreats and Las Posadas.
Next on the calendar for Fr. Clemente are the weekend retreats in Sierra Madre for Spanish-speaking men during the Holy Week Triduum, and in August for Spanish-speaking women.
Fr. Clemente has big plans for future Hispanic outreach programs.  Just ask him.  He'll share with you his tale of two cities.