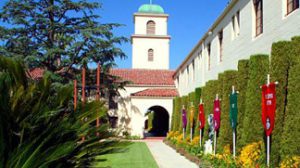 You Make a Difference   
Your contributions to Mater Dolorosa make a difference in the lives of those who attend a retreat by providing a spiritual sanctuary where people can leave behind the demands of every day life and renew their faith in a more meaningful way.   We are grateful for your support!
Review Mater Dolorosa Ways to Give Booklet
Review Ways to Give Donor Form
Make an online donation to Mater Dolorosa. 
For more information on ways to support Mater Dolorosa please contact our Development Office:
Mater Dolorosa Passionist Retreat Center
Jeanne Warlick,  Director of Development
700 N. Sunnyside Avenue
Sierra Madre, CA  91024
626 355 7188, ext. 103 or
email:  [email protected]
Click the links below to read more about the ways in which you can make a difference at Mater Dolorosa:
Century Club
Sponsorship Circle
Major Gifts
Memorial Donation Program
Perpetual Mass Cards
Vehicle Donation Program
Annual Fundraising Opportunities
Employer Gift Match
Your Gift of Time
Your Gift of Prayer
Mater Dolorosa depends on gifts from friends and benefactors to maintain this sacred place on the mountain, enabling more and more people to embark on a journey of self- discovery through a weekend retreat.  Each year friends and retreatants acknowledge the importance of the special ministry founded by St. Paul of the Cross through their gifts.  We are truly grateful for each and every one of these gifts.
There are many ways to support Mater Dolorosa.
Giving Opportunities at Mater Dolorosa
Century Club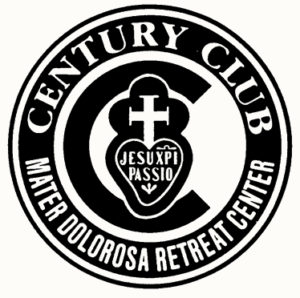 An annual membership whose funds are dedicated to the maintenance and refurbishing of the Retreat Center and grounds, keeping it a place where retreatants and visitors can find a calm, relaxing and prayerful atmosphere that is conducive to spiritual growth.   For information on the wonderful improvements that are made possible with Century Club donations or to become a Century Club member, visit our Century Club page.
Sponsorship Circle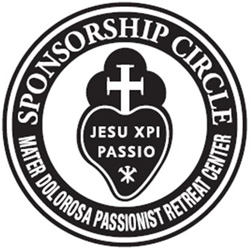 The Sponsorship Circle is an annual membership whose primary purpose is to help fulfill the Passionist tradition of never turning anyone away from a Passionist-preached weekend retreat for financial inability to make the requested donation.  Donations from Sponsorship Circle members also help to cover the difference between the actual cost of a weekend retreat and the requested donation.  Currently the cost per person of a weekend retreat is $240 and the requested donation is $215.  To learn more about the Mater Dolorosa Sponsorship Circle or to become a Sponsorship Circle member, please visit our  Sponsorship Circle page.
Unrestricted Donations
Unrestricted donations are used where needed most, either in the operations of the retreat center or in promoting special programs.
Major Gifts
While the annual fund is for our day to day operations and is necessary to maintain our facility, grounds and programs, major gifts are always needed for special projects.  If you have a particular interest, service, or would like to contribute to one of many special projects that are waiting to be completed, we encourage you to speak to our Retreat Administrator or Development Office at (626) 355-7188.
Memorial Donation Program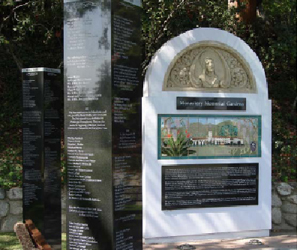 A memorial donation offers you a thoughtful, caring way to remember a loved one while contributing to our vital mission.  Celebrate your many years of retreats at Mater Dolorosa in a special place of honor.  Celebrate a beloved friend, family member or your family name.  Honor a birthday, anniversary, a special occasion, or condolence for the loss of a loved one with one of the following:
Memorial Gardens Pillar
Chapel Seat Plaque
Garden of the Seven Sorrows engraved plaque
Unrestricted donation to be used where needed most
For more information, please contact the Development Office at (626) 355-7188, ext. 130.
Download Memorial Donation Form: Memorial Donation Form
Perpetual Mass Cards
The gift of a Perpetual Mass Card enrolls the beneficiary in our Prayer League.  It is a spiritual way of celebrating a life well-lived, saying thank you to God for the gift of a person's life and their relationship with you. The enrollment can be used for remembering birthdays, anniversaries, special occasions, as well as for those who have died in lieu of sending flowers.  Through enrollment in the Prayer League, your loved one shares an ongoing remembrance at Mass, as well as in the devotions, prayers, and apostolic works of our Passionist Communities.  The beautiful enrollment folder is itself a gracious symbol of your prayerful support for your loved one. These beautiful cards can be purchased from Jessica at 626-355-7188, ext. 130.
Vehicle Donation Program
If you have a car, boat, truck or any other vehicle you no longer need, please consider Mater Dolorosa as the recipient of your donation.  Any age – any condition!  Give us a call at (626) 355-7188, ext. 103 or email [email protected].
Annual Fundraising Opportunities
Golf Tournament – Spring
Harvest on the Hill Auction & Dinner – October
Christmas Raffle – October/November/December
Employer Gift Match
You may be employed by a company who offers an employee gift match.  An investment of a few minutes of your time to call your company's human resources department could possibly double or even triple your gift to Mater Dolorosa.  Some companies will match donations made by their retired employees!  Please mail your matching gift form to Development Office, Mater Dolorosa Passionist Retreat Center, 700 N. Sunnyside Avenue, Sierra Madre, CA  91024.
Your Gift of Time
Volunteer angels are welcome at Mater Dolorosa.  Please let us know if you would like to work on a particular committee such as Harvest on the Hill Auction, Golf Tournament, Building & Grounds, etc.  Or you may want to assist with office and clerical work.  Please share your talents or expertise with us.  We look forward to hearing from you.
Your Gift of Prayer
A gift of prayer is always welcome.  We thank you for your prayers in support of our Passionist traditions of preaching, hospitality and compassion that began so long ago with our Founder, St. Paul of the Cross.
Planned Gifts – Please consider naming Mater Dolorosa in your will or trust.
Our legal title is:  Mater Dolorosa Passionist Retreat Center, Inc.
Our legal address is:  700 N. Sunnyside Avenue, Sierra Madre, CA  91024
Our federal tax ID number is:  87-0758476
Mater Dolorosa is recognized by the U.S. Internal Revenue Service as a 501(c) (3) public charity.
Gift planning is finding ways to make charitable gifts now or after your lifetime while enjoying financial benefits for yourself and your family.  Determining what gift is right for you is just as important as making the gift.  Gift planning will help you accomplish both.  Through creative gift planning you can secure your own financial future, as well as the people and charities you care about.  Unlike cash donations, planned gifts are typically made from assets in your estate rather than disposable income, and come to fruition upon your death.  However, there are gifts that pay you income during your lifetime.
Please let us know if you have named Mater Dolorosa in your estate plan so that we may ensure your gift is used as you intended.  This also gives us the opportunity to include you as a member of our Legacy Society and to properly acknowledge and thank you for your support.
For more information on how you can help provide support for the life and ministry of Mater Dolorosa Passionist Retreat Center and leave a lasting legacy, please contact Jeanne Warlick in our Development Office.  Jeanne can be reached at (626) 355-7188, ext. 103.  Or contact her via email at [email protected]
You may also visit our Planned Giving Page for eBrochures, gift calculations and other helpful information.  It is your gift that will help Mater Dolorosa to offer a place of grace, peace and solitude for generations to come.