Fr. John Auram, CP, shares his vocation journey, and the importance of prayer in his life.

Fr. Alfredo Ocampo, CP, talks about what his vocation means to him as a Passionist, and the importance of living in Community. Scroll down to see Fr. Alfredo's message en Español.
P.Alfredo Ocampo, CP, habla acerca de lo que su vocación significa para él como pasionista, y la importancia de vivir en comunidad.
Fr. Robin Ryan, CP, shares his inspiration for choosing a vocation to religious life as a Passionist priest.
Passionist student Phillip Donlan shares why his vocation to religious life with the Passionists is important.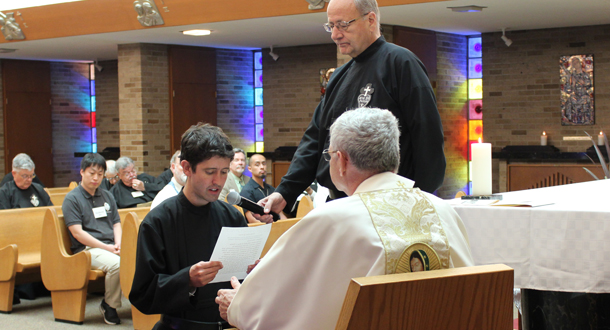 Prayer for Passionist Vocations
By: Fr. Randal Joyce, CP
Father, with hearts grateful for the past,
and looking to the future with trust in your providence
we pray for the needs of our Passionist Congregation.
With special urgency we pray for more companions.
May our lives and our places be lighthouses for others,
showing the way, glowing with welcome.
By Your Spirit within us may we be magnets of grace,
drawing others to join us in community.
We pray with Mary, the first Passionist,
we pray with St. Paul of the Cross
and all our Passionist saints.
We pray most of all in the name of Jesus, crucified and risen.
Amen.