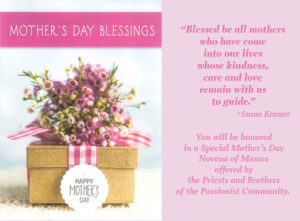 Dear Friend of the Passionists,
As springtime moves us into summer, we're surrounded with signs of life in nature, in educational endeavors, in sports – and in one another!  High on the list of life celebrated these days are the lives of our mothers and fathers – those God has entrusted to share the gift of life with us.  This year Mother's Day is May 13th.
Mother's Day encourages us to thank God for the gift of life shared with us through our parents – their dedication and love have cared for us, nurtured us, taught us, and, very likely imparted to us, the gift of faith.  Perhaps some of us have been raised by adoptive mothers, or by step-mothers, grandmothers, aunts, or other special women whom you call Mom. We all are part of God's plan so that we, too, can share God's life with others.
These days, we pray in gratitude for our mothers, along with other ways of recognizing the gift of life.  One special way to honor these special women in your life is with the special Mother's Day E-card available on our website. We invite you to remember your mother in prayer, joining your prayer with that of our Passionist Community as we celebrate a Novena of Masses for Mother's Day.
When you send an e-card, those enrolled will share in the special Novena of Masses celebrated by our Passionist Communities.  As you send us your prayer intentions, please consider including a financial donation to support our Passionist life and our ministry to families – mothers and fathers and children of all ages, especially those most in need of God's Love.
As God showers us with life these days, I pray with you in thanksgiving for our parents, and I look forward to joining your intentions with many others from our friends and benefactors.  We Passionists and those we serve are grateful for your support and encouragement.  Let's remember each other in daily prayer.
In Jesus' Life and Love,


Fr. Michael Higgins, C.P.
Spiritual Director
---