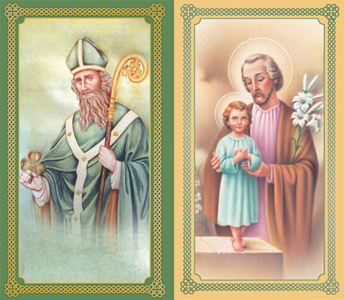 Dear Friend of the Passionists,
Every year in March we celebrate tow great saints in our Church calendar: St. Patrick and St. Joseph.
Along with the lore surrounding the story of St. Patrick, there is a prayer or hymn attributed to him which is often referred to as the St. Patrick Breastplate. In that prayer, St. Patrick prays for protection and inner conversion. We have no words associated with St. Joseph, but we know that he too was a person who put his trust in God (Matthew 1:18-24 and 2:13-23, NABRE).
There is a part of St. Patrick's Breastplate that describes the mission of every Christian:
Christ in the heart of everyone who thinks of me,
Christ in the mouth of everyone who speaks to me,
Christ in every eye that sees me,
Christ in every heart that hears me.
Our call is to live in such a way that everyone who encounters us encounters Christ, and that we see Christ in everyone we meet.
The Passionists have created two beautiful e-cards celebrating the lives of Saints Patrick and Joseph.  They are an excellent way to prayerfully remember a loved one on these feast days.  Please send the names of those you wish the Passionists to remember in our feast day Masses and prayer.
A donation to help the Passionists continue our Passionist ministries and communities would be greatly appreciated.  Please pray with us for an increase of vocations to the Passionist way of life, following the generous example of St. Patrick and St. Joseph.
Together we proclaim God's love in Jesus Crucified, and as always, "May the Passion of Jesus Christ be always in our hearts!"
In God's special love,



Fr. Michael Higgins, C.P.
Spiritual Director