St. Paul of the Cross, Passionist Founder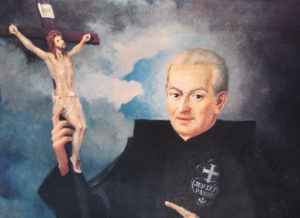 "The world lives unmindful of the sufferings of Jesus which are the miracle of miracles of the love of God. We must arouse the world from its slumber." 
Paul Francis Daneo, founder of the Congregation of the Passion, is considered to be a visionary and mystic in his time. But like us, he was also a seeker, a questioning heart, a man on a lifelong journey of faith that took him inward to the deepest part of his soul and outward as a preacher to the harshest of lands. His journey began and ended at the very same place – at the foot of the Cross, at the place of his beloved Crucified Jesus through whom, for Paul, all love was given, all suffering was transformed, all death was overcome, and all questions would one day be answered.

Early Life 
Paul Daneo was born on January 3, 1694, in Ovada, Italy. Even as a young person, Paul felt strongly connected to God and moved by the passion of Christ.
At the age of 19, Paul's father wanted him to become a merchant like himself. Marriage was a possibility looming in the future. At times Paul dreamed of becoming a soldier, and even enlisted in the Venetian army when volunteers were requested by the Pope.
But he soon realized that neither the adventure of a military career, the financial promise of the business world, nor the joys and sorrows of marriage were to be his life's journey. Listening one day to a simple sermon on the sufferings of Jesus, Paul suddenly experienced what he called his "conversion." He heard the voice of God calling him to a life of the spirit and a path of spiritual rigor.
Spiritual Journey
He spent long hours in prayer, wrestling often with his own inner darkness and fierce temptations, a struggle that continued throughout 40 years of his life. But it was in his connection to the Crucified Jesus that Paul found solace and meaning, and in his meditations on Christ's passion that new inner directions opened up for Paul. His prayer life became an experience for him of the tremendous love God has for us.
Paul could see how many of his contemporaries did not know that God's love had not deserted them. The sick, the poor, the ordinary people of his day had few hours of rest, little hope of healing, and lived in crippling fear of war and bloodshed. Few found spiritual strength in the ritualistic services of the Church, which had became increasingly inaccessible to those who were living at the margins of society. It was these abandoned people who Paul wanted to reach, and eventually, it was to their side that Paul traveled long hours throughout the harsh countryside to preach a message of faith, compassion and loving redemption.
Founding the Passionists
Paul had dreamed of gathering companions who would live together in community and promote this new message. But it took from 1720 to 1741—twenty-one years of humble service as a hospital chaplain and traveling preacher combined with quiet perseverance in the face of official Church rejection—for Paul to receive his first papal authority to found his religious order, "The Congregation of the Passion."
For over 40 years, Paul and his "like-minded companions," the Passionists, preached the loving memory of the passion and death of Jesus Christ. Paul would challenge his hearers to die a mystical death with Christ so as to rise up with Christ to a life of faith and love. The sick and the poor remained special recipients of Paul's care, but he would also preach to the clergy and remind them of their obligations to serve the neglected. After many years of preaching, teaching and serving the Passionist community as its founder and leader, Paul died in 1775. His feast day is celebrated in the United States on Oct. 20.