Mater Dolorosa 2016-17 Retreat Schedule
The Crucified One is No Stranger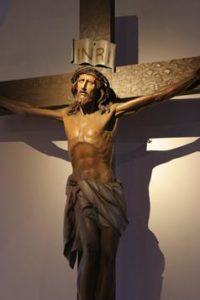 The crucified one is no stranger.  This is a bold, even daring statement.  The crucified one is Jesus on the cross.  But the crucified one is still present and living among us.
The theme of our retreat is "The Crucified One is No Stranger."  We will explore the question we all ask many times: Is God truly present in our lives?  Not just in the beautiful and graced moments, but even in the broken and dark places?
With the eyes of Christ, we can recognize his presence among us.  He is one like us.  And we need not look far to encounter the crucified one in others:  our family, friends or co-workers.  They may have been crucified by life's circumstances, or worse, by us.  Closer still, the crucified one may be me.  Do I crucify myself by my inability to forgive myself, to forgive others, or to forgive life for being so unfair?
The Crucified One is No Stranger.  He is present among us.  And from the cross, his cross and ours, Christ calls us to hope.  He summons us to resurrection.  And most mysteriously, even as the crucified and risen Jesus invites us to recognize him in his wounds, we will come to recognize ourselves in new life.