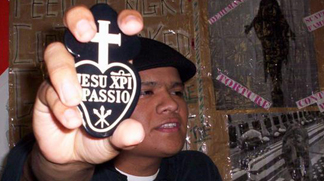 Passionists (C.P.) Passionist priests and brothers take a unique vow to promote the memory of Christ's Passion and God's redeeming love for us through their life of contemplation, community and ministry to the crucified of today. Founded by St. Paul of the Cross, Passionists reach out with compassion to those who suffer or are marginalized-the disabled, the sick, the dying, the impoverished, those who grieve or are alone-and offer opportunities for all to experience spiritual growth and healing.
Prayer and a rich community life support the special Passionist charism. Ministries include preaching, retreat center programs, parish, radio and TV ministry, and chaplaincies.
There are two Passionist Provinces in the United States that include members serving in other countries.
If you live outside of the United States, please visit our Passionist Congregation website where you can find Passionist Communities in your country or in countries near you.  It is better to find a community with a similar lifestyle.
If you are male, between 18-40 years old, a resident of the United States or Canada and are considering a vocation to religious life as a Passionist, please contact:
Western Province: (West of the Appalachian Mountains)
Fr. John Schork, C.P.
email:[email protected]
website: https://passionist.org/vocations/
Eastern Province: (East of the Appalachian Mountains)
Fr. James Price, C.P.
86-45 Edgerton Blvd.
Jamaica, NY 11432
(929) 419-7500
email:[email protected]
website: https://thepassionists.org/join/vocations-formation
Local Vocation Directory
Vocations en Español
P. Alfredo Ocampo, CP
Passionist Community
5417 S. Cornell Avenue
Chicago IL 60615
773-324-2704
[email protected]
Passionist Community
1924 Newburg Road
Louisville, KY 40205
502-451-2330
[email protected]
Passionist Community
5417 S. Cornell Avenue
Chicago IL 60615
773-324-2704
[email protected]
Fr. Jack Conley, CP
Passionist Community
6520 Van Maren Lane
Citrus Heights, CA 95621
916-723-5162
[email protected]
Fr. Phil Paxton, CP
Passionist Community
1910-19th St. Ensley
Birmingham, AL 35218
205-780-9683
[email protected]
Fr. Bruno D'Souza, CP
Passionist Community
700 N Sunnyside Avenue
Sierra Madre, CA 91024
626-800-9441
[email protected]
Fr. Enno Dango, CP
Passionist Community
23335 Schoolcraft
Detroit, MI 48223-2405
313-531-0562
[email protected]
Fr. John Schork, CP
Passionist Community
430 Bunker Hill Road
Houston, TX 77024
502-544-7808
[email protected]
or
Fr. Nicholas Divine, CP
(832) 584-4372
[email protected]