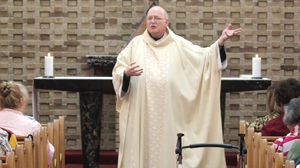 Fulfilling the Law
Fr. Phil Paxton, CP
In our Gospel reading for Sunday from Matthew (5:17-37) we get an idea of our call to holiness and spiritual development. First, Jesus says to His disciples: "Do not think I have come to abolish the law or the prophets. I have come not to abolish but to fulfill….I tell you, unless your righteousness surpasses that of the scribes and the Pharisees, you will not enter the kingdom of heaven." The scribes and the Pharisees knew the law, and even "The smallest letter or the smallest part of a letter" of the law. They could "talk the talk," but they didn't "walk the walk." We can know the Ten Commandments; we can know the Bible; we can know the dogmas of the Church, but if we don't live out our knowledge of these things, we are still in the beginning stages of our development, and we're in danger of being arrogant in our knowledge like the scribes and Pharisees Jesus was talking about.
So it is one thing to know the commandments. It is another to actually obey them. But there is another step here that I think Jesus is bringing to our attention. In several instances in our reading, Jesus begins with "You have heard it said …," and He recites a commandment. And then He'll say, "But I say to you …," and then goes on to explain what it means to not only obey the letter of the law, but to fulfill the spirit of the law. Jesus calls us to go beyond a mere legalistic interpretation of a particular commandment, where attitudes as well as actions are important.
Let me try to give a small example, especially since Lent is coming soon. Sorry to say, I've been guilty of this myself. Take a fast day during Lent, such as Ash Wednesday or Good Friday. On those days we go with little food in order to deepen our connection with God; to realize that our relationship to God is even more important than the necessities of life; to help us know that what we may want isn't necessarily what we need; and other spiritual reasons. There have been times when I've been hungry on the evenings of those days, and can't wait until 12:01 am the next day in order to eat something! I've followed the letter of the law, but not the spirit. So when Jesus speaks about the commandment not to kill as not only telling us to refrain from murder, but to refrain from all violence, even in the act of belittling or cursing someone, He's telling us to go beyond the letter of the law in order to really fulfill the spirit of the commandment, which is essentially to love God and to love our neighbor.  
As we grow in living out the commandment to love, and as we grow closer to God, we find ourselves willing to let go of anything that takes us away from God, even to the smallest degree. And that is why Jesus can say something seemingly outrageous like, "If your right eye causes you to sin, tear it out and throw it away," and "If your right hand causes you to sin, cut it off and throw it away. It is better for you to lose one of your members than to have your whole body go into Gehenna." If you've ever suffered from addiction, you know the times you would have willingly cut off your hand for the next drink or the next fix. Or how many times have we held onto that resentment or prejudice, come hell or high water?
Are we willing to come to that level of holiness? We can, but not on our own. As it says in our first reading from Sirach (15:15-20): "if you trust in God, you too shall live." And in our second reading from 1 Corinthians (2:6-10), St. Paul quotes, "What eye has not seen, and ear has not heard, and what has not entered the human heart, what God has prepared for those who love him." God promises a fullness of life beyond our understanding, if we are willing to come closer to God, and live out more and more the commandment to love.
I welcome any comments or questions. Thanks for your time. 
In Christ,
Phil, CP