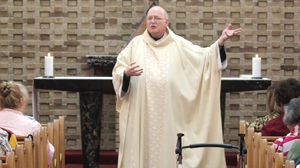 Take My Yoke Upon You and Learn From Me
Fr. Phil Paxton, CP
In our Gospel reading for Sunday (Matthew 11:25-30), we have a familiar passage that seems so appropriate for our times. After Jesus blesses the Father for the fact that the established leaders have not accepted His Gospel message, but that the "little ones," the people without clout, have. And then Jesus says these familiar words: "Come to me, all you who labor and are heavy burdened, and I will give you rest. Take my yoke upon you and learn from me, for I am meek and humble of heart; and you will find rest for yourselves. For my yoke is easy, and my burden light."
Jesus is contrasting Himself with the scribes and Pharisees who used their knowledge of the Law not to help the people, but to browbeat them. Elsewhere in the Gospels, Jesus criticized the Pharisees and the scribes for putting heavy burdens on the people, but doing nothing to help them (Matthew 23:4). Jesus is telling the people He is not going to be like that. He is there to lift them up! He is "meek and humble of heart." To be "meek" here does not mean to be weak. Instead it is more like the Servant in Isaiah 42:3 – "A bruised reed he shall not break, and a smoldering wick he shall not quench." Jesus is promising that He will not do violence to the people in the name of God.
But the words that have resonated most with me at this time are: "Take my yoke upon you and learn from me…" During this time of pandemic; during this time of a national examination of conscience around racism and injustice, Jesus is inviting us to learn from Him. Can you imagine Jesus saying to you, "Learn from me that I love you. Learn from me that I gave up myself and was nailed to a cross for you. Learn from me that the Cross is not the end. Learn from me that I am with you right here and right now, even as you carry the cross of Covid-19; even as you carry the cross of racism, for all of you are carrying that cross, whether you know it or not. Learn my love for you and find rest in my heart."?
Can we hear Him also say to us: "Learn from me to love each other."? Jesus was telling the people not to learn from what the Pharisees and the scribes were doing. From what are we learning? Are we learning that we can find rest in a lot of "stuff"? (George Carlin had a great routine on this) Have we been convinced that security comes from material wealth and worldly power? Have we been led to believe that in order to lift ourselves up we must put others down because there is not enough to go around? These are things that worldly wisdom seeks to teach us. But these things do not deliver on their promise! Not if we really want rest for our souls.
Are we willing to learn from Jesus? It is not often easy to love as Jesus loves. Jesus speaks about forgiveness and mercy and even love of enemies. Jesus does not return violence with more violence. In our first reading from Zechariah (9:9-10), the king that is to come "shall banish the chariot from Ephraim" (the weapon of the enemy), "and the horse from Jerusalem (The weapon of his own country!).
The yoke to which Jesus calls us is not a submission to slavery but a commitment to follow the One who loves us. May we take His yoke upon us and learn from Him His love for us and how to love each other. May we find rest in His love.
I welcome any comments or questions. Thanks for your time.
In Christ,
Phil, CP