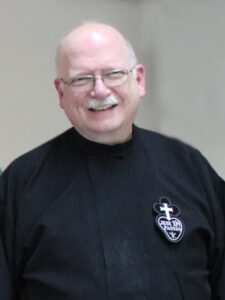 Heal Our Blindness
Father Phil Paxton, CP
To All,
Last week we reflected on Jesus revealing Himself to the Samaritan woman at Jacob's well, and also how He revealed the woman to herself, which led to great conversion. In our Gospel reading for today (John 9:1-41), Jesus reveals Himself to a man born blind. He also reveals the ways of God to the apostles and the Pharisees, and reveals them to themselves, but there isn't a widespread conversion.
When the apostles see the man born blind, they ask, "Rabbi, who sinned, this man or his parents, that he was born blind?" Many people in Jesus' time, and some people today, believe that if someone was in a situation like this man, then they are being punished by God for someone's sins (See the book of Job, and how Job's friends are looking for reasons for Job's suffering). But Jesus replies, "Neither he nor his parents sinned; it is so that the works of God might be made visible through him." And then, Jesus makes some clay out of the ground, smears it on the man's eyes, and tells him to wash in the Pool of Siloam. The man does as he is told, and he is no longer blind! Jesus reveals God's ways are not our ways, and just as we hear in our first reading from 1 Samuel (16:1b, 6-7, 10-13a), God doesn't see as human beings see.
But since Jesus did this on the sabbath, the Pharisees decide to investigate. When they find out what happened, they already decide that this miracle could not have come from God. And so they put this man through a whole series of questions, trying to get the answer they want, and the man keeps telling them the truth. At the end of all this, the Pharisees throw him out of the synagogue: "You were born totally into sin, and you are trying to teach us?" They have that same belief that was mentioned above. Jesus finds him and says, "Do you believe in the Son of Man?" and the man replies, "Who is he, sir, that I may believe in him?" and then Jesus reveals Himself to the man: "You have seen him, the one speaking with you is he." And the man believes.
For me, the Pharisees here refused to see what Jesus did because they refused to see who Jesus was. And that prevented them from seeing who this man was, a beloved child of God. Jesus reveals the Pharisees to themselves: "If you were blind, you would have no sin; but now you are saying, 'We see," so your sin remains."
But we supposedly believe in who Jesus is and what Jesus did and continues to do, and yet, we can refuse to see. We can be as the Pharisees were, and decide that certain people are outside of God's love and forgiveness. We can refuse to see how God may be acting in their lives, so we can hold on to our own prejudices and stereotypes. When a disadvantaged person or a person of color succeeds, there are people who will say that they were unfairly helped by some program like affirmative action. There are groups of people looked upon by other groups of people, and determined less than human or less than the dominant group, justifying discrimination, exploitation, slavery, and even genocide.
But if we believe in who Jesus is, and what He has done for us, showing the extent of God's mercy, how can we refuse to see another person or group of people as they are, children of God?
In the words of our second reading (Ephesians 5:8-14), may we "live as children of light." May we be open to Jesus revealing our blindness to us. May we be open to Jesus giving us the sight we need to follow Him. And may our eyes, and the eyes of the whole world, be opened, the "fruitless works of darkness" be forsaken, and the light of God's love illuminate the world.
I welcome any comments or questions. Thanks for your time.
In Christ,
Phil, CP