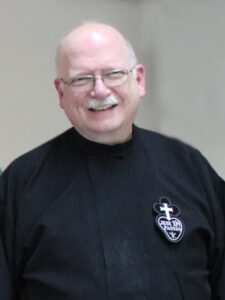 Serve One Another Through Love
Father Phil Paxton, CP
To All,
I am writing this on the morning when the Supreme Court has overturned Roe Vs. Wade. While I am pro-life, I don't believe that this decision makes things easier. For many people who support the right to an abortion, that right represented true equality for women, because, as I understand it, they saw a decision about abortion as a decision made with autonomy over their own bodies. This decision has not convinced them otherwise. Gloating over a political victory will not address the mission we have been given. We still have much to do.
For me, engaging in the "culture wars" is not the way to relate to others. I am reminded of this when I look at our second reading from Galatians (5:1, 13-18). St. Paul writes, "For you were called for freedom, brothers and sisters. But do not use this freedom as an opportunity for the flesh; rather, serve one another through love. For the whole law is fulfilled in one statement, namely, 'You shall love your neighbor as yourself.' But if you go on biting and devouring one another, beware that you are not consumed by one another." Note that this letter was not addressed to the Jews who rejected the Gospel, nor to the pagans who had no interest, but to the people of the church!
Are we willing to act differently from the ways of division and "war?" Are we willing to "serve one another through love?" If we have fought so hard for the lives of the unborn, are we willing to advocate for their needs after they have been born? Are we willing to work for justice for all, whether they are like us or not? Are we willing to listen, in love?
In our Gospel reading (Luke 9:51-62), Jesus has to rebuke James and John after a Samaritan village would not welcome Him because he was going to Jerusalem. They asked Jesus, "Lord, do you want us to call down fire from heaven to consume them?" This was not Jesus' way. So He rebuked them, and they chose another path.
Later on, there were people who stated their desire to follow Him, but they wanted to do others things first. Jesus' responses seem pretty harsh, but He was telling them what a commitment it was to follow Him. One said to Him, "I will follow you wherever you go." Jesus answered, "Foxes have dens and birds of the sky have nests, but the Son of Man has nowhere to rest his head." I'm not sure that Jesus was talking about physical rest, or even about having a place to call His own. But I wonder whether He meant that He had no time to be complacent. I think that is true for us. A Supreme Court ruling does not preclude us from reaching out in love, working for a world where nobody lacks the necessities of life; where there is justice which leads to real peace, and where people can come together.
At the end of our Gospel reading, Jesus says, "No one who sets a hand to the plow and looks to what is left behind is fit for the kingdom of God." On one level, we should not make a commitment to follow Jesus, while always looking for how we can get out of it. On another level, I see this as a reminder that when we follow Jesus, we are turning our backs on hatred and fear and violence, not to mention greed or lust or the thirst for domination and exploitation. As St. Paul writes, "Christ set us free; so stand firm and do not submit to the yoke of slavery." May we act with compassion and love to all, to those grappling with difficult decisions and others beaten down by poverty and injustice. May we work to help set others free.
I welcome your comments or questions. Thanks for your time.
In Christ,
Phil, CP