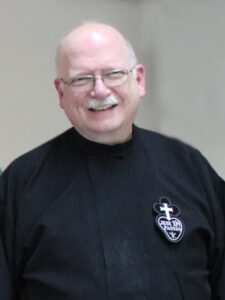 Conquer the World
Father Phil Paxton, CP
In our second reading for this Sunday (1 John 5:1-6), the author makes a rather audacious claim: "For the love of God is this, that we keep his commandments. And his commandments are not burdensome, for whoever is begotten by God conquers the world. And the victory that conquers the world is our faith. Who indeed is the victor over the world but the one who believes that Jesus is the Son of God?"
This statement doesn't make sense if we think of conquest in the same way that the world thinks of it. Conquest here does not mean lording it over a vanquished foe. For me, what it means is that when we believe that God so loved the world that the Son of God became one of us in Jesus Christ, and that He suffered and died and rose from the dead to save us, that we need not be overcome by the world. Yes, there is still injustice; yes, there is still greed and violence, and all the rest. And it can be discouraging, and even heartbreaking. But our faith and our hope and our love in Jesus Christ tells us that we don't have to give up, and we don't have to give in to what passes for "wisdom" in the world – a kind of cynicism and justification for self-centeredness.
The apostle Thomas is a good example. I've been saying this for some time now; that I don't believe Thomas doubted because his faith was never strong to begin with. Earlier in John's Gospel, when Jesus finds out that Lazarus is seriously ill, He is talking to his disciples about going to Jerusalem. And the disciples say, "Aren't they trying to kill you there?" And it is Thomas who says, "Let us go and die with him." (John 11:16). That is not weak faith!
But when Thomas sees that the chief priests and the scribes have succeeded in putting Jesus to death, it seems to me that Thomas' hopes have been dashed. And it seems to me that Thomas has opted out. He has decided not to believe in anyone or anything ever again. "The powers that be" are still in power, and there's no point in trying to do anything to change it: "I'm just going to look out for No. 1." (Is that not the "wisdom" of the world?) And so he doesn't even hang around with the other apostles anymore.
So when they run into him, and tell him that Jesus has risen, he's not going to buy into what he considers their wishful thinking or self-delusion. The only thing that might change his mind is to see for himself. Somehow, the other apostles convince Thomas to be with them, and Jesus appears again. Again, He says to them "Peace be with you." And then Jesus invites Thomas to touch His hands and side and believe. And Thomas believes. He is healed of his grief and despair and cynicism. He is overcome by the world no longer. And tradition says he made it all the way to India to proclaim the Good News.
In his encounter with the Risen Jesus, Thomas entered into the mystery of God's love in Jesus Christ. In touching Jesus' wounds, Thomas touched the Crucified and Risen Jesus. Every time we celebrate Mass and receive the Eucharist, we also touch the Crucified and Risen Jesus. We, too, enter in a very intimate way, the mystery of God's love in Jesus Christ. And if we can hang on to and live out what we celebrate, we will not be overcome by the world, but overcome by the Gospel. And instead of giving up and giving in, we will keep on loving as Jesus loves. We will keep on working for justice and making peace. We will not let the prejudices and fears and hatreds of the world control us. We will not buy into the lies of the world – lies such as "There has to be winners and losers in our society," or "Your gain is my loss;" but in the truth of God's love and the Divine Mercy we celebrate.
Look at the Christians in our first reading from the Acts of the Apostles (4:32-35). "No needy person among them?" Proceeds "distributed to each according to need?" What? That's not how the world works! But it is how faith and hope and love work. If you'd rather find peace and serenity even in the midst of chaos and turmoil, and prefer not to be overcome by the world, "do not be unbelieving, but believe."
In the Crucified and Risen Christ,
Phil, CP