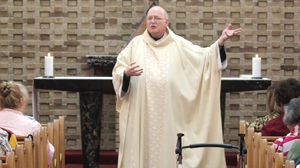 Mighty Acts of God
Fr. Phil Paxton, CP
On Sunday we celebrate Pentecost Sunday, marking the time when, just as promised by Jesus, the Holy Spirit comes down upon Mary and the apostles (our first reading – Acts 2:1-11). After this, the apostles go out and proclaim the Good News of Jesus Christ to the crowd that has gathered there because they heard a great sound coming out of the house where the apostles were.
There are many remarkable things associated with this event. One, of course, is that the disciples, previously so afraid that they locked the doors where they were, are now unafraid to proclaim the gospel. Another, is that even though the crowd is made up of people who speak different languages and come from different places, they are able to understand what is being said to them.
And what is being said to them? "… yet we hear them speaking in our own tongues of the mighty acts of God." To proclaim the Gospel is to speak of the "mighty acts" of God's love throughout history and their fulfillment in the life, death, and Resurrection of Jesus Christ.
And the best way to speak of the "mighty acts" of God in Jesus Christ is to open ourselves to God doing acts of love in us and through us: "To each individual the manifestation of the Spirit is given for some benefit" (from our second reading, 1 Corinthians 12:3b-7, 12-13). How will people know God's love unless we share what we have been given? In our Gospel reading (John 20:19-23), Jesus says, "As the Father has sent me, so I send you."
In the light of the pandemic and other recent events, we are reminded once again how important it is for us to follow the guidance of the Holy Spirit. And perhaps we can use those words, "mighty acts of God," to help us discern the guidance of the Spirit. For instance, is it closer to an act of God to harbor a resentment, or to forgive? To dehumanize or demonize the other, or to relate to him or her as a child of God? To help protect others or to protect my own self-interests? To show compassion or to indulge in indifference? To care for or to exploit the earth? These may sound like contrasting extreme positions, but I think it's important for us to raise these kinds of questions with regards to the choices we make and the attitudes we hold.
But if we strive to follow the Spirit which has been given to us as the Spirit was given to Mary and the apostles, how well would the Gospel be proclaimed! And think of how it would be if we worked together to perform mighty acts of love and compassion and justice! Twenty years ago, in 2000, on Pentecost Sunday here in Birmingham, Bishop Foley had invited people of all Christian denominations to attend a prayer service, celebrating the Spirit for the new millennium. The bishop had invited Fr. Walter Brueggeman, SJ, to give the main talk. I was there, and one thing I remember Fr. Brueggeman saying was that people would come up to him and say to him something like, "If you Catholics got together, that would be something." And then Fr. Brueggeman said to us there at the BJCCC, "If we Christians got together…" I believe I heard a few "Amens" on that!
As God has done great things for us and in us, may "mighty acts" of love, both great and small, be done through us, and the Gospel be proclaimed!
In the Risen Christ and the Holy Spirit,
Phil, CP