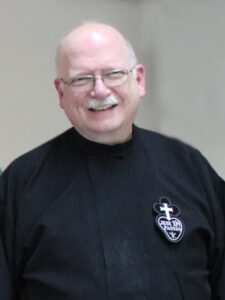 Love for a Stiff-Necked People
Father Phil Paxton, CP
To All,
This Sunday the Church celebrates the Trinity. The Church highlights her belief that God is Three Persons in One God: Father, Son, and Holy Spirit. This indeed is a mystery. But for me, I see the doctrine of the Trinity coming out of the experience of the early disciples, as they wrestled with how to express what they believed about Jesus Christ.
It's helpful for me to try to put myself in the situation of the early disciples, those who heard and witnessed all the things Jesus said and did. They saw Him die on the Cross, and also saw Him rise from the dead. And so I imagine them thinking that perhaps Jesus meant what He said when He talked about the Father and He being one, and referring to Himself as the Son of God. Also, when the Holy Spirit came down upon them, and they were empowered to spread the Good News of Jesus Christ, they realized that this power did not come from themselves, but from God.
And so, they could see that Jesus, although human, was also divine. And they could see that somehow, this Holy Spirit was also divine. But that realization clashed with their belief, as good Jews, that there was one God. It literally took 300 years after the time of Christ for Christians to settle on a profession of faith they all could agree on, which we know as the Nicene Creed.
In the creed, there is one image used that helps me understand the Trinity a bit: "God from God, Light from Light, True God from True God…" "Light from Light" helps me because I think of the sun, and I think early theologians also used this image. In our minds, we can distinguish between the sun itself, and the warmth and the light it brings. But even though we can distinguish these things from each other, you cannot separate the sun from the warmth and the light it brings. Just so, we may distinguish in our minds, the Father, the Son, and the Holy Spirit, but they are not separated individuals from each other. They are in perfect communion with each other. God is a Being of perfect relationship and love.
What's important, I think, is to realize that the ways in which God has revealed God's self has all to do with loving us. We believe that the Father sent the Son, who was conceived by the Spirit, to become human in order to save us. The Holy Spirit has been given us so that we can follow Jesus in loving God and loving one another as Jesus loves us. The mystery of the Trinity is the mystery of God's love!
I see this revealed in icons depicting the Trinity. Icons depicting the Trinity refer to Genesis 18, where Abraham and Sarah host three visitors who appear divine. All icons, instead of depicting a perspective showing things receding in the distance, actually show a perspective pointing toward the viewer, or more accurately, the prayer, before the icon. God's revelation of god's self is oriented towards us. And we are created to be oriented toward each other.
But we seem to so often go against the essence of our being. We try to pretend that we can love God and hate others. Or we seek to define for ourselves who our neighbors are that we are called to love (See the parable of the Good Samaritan).
In our first reading from Exodus (34:4b-6, 8-9), Moses bows down to God and says, "If I find favor with you, O Lord, do come along in our company. This is indeed a stiff-necked people, yet pardon our wickedness and sins, and receive us as your own." We can look at the Israelites as a "stiff-necked people," but we need to recognize our own stubbornness.
As God moved outside of God's self to love us into existence, and revealed god's self in order to save us, may we be true to who God created us to be, and in response to God's love, be oriented in love toward each other and the whole world.
I welcome any comments or questions. Thanks for your time.
In the Father, the Son, and the Holy Spirit,
Phil, CP