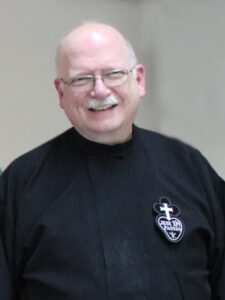 Worth the Price
Father Phil Paxton, CP
To all,
In our Gospel reading for this Sunday (Mark 10:35-45), the apostles James and John come to Jesus to make a request. They ask for the honor to sit at His right and at His left when He is in His glory. This is right after Jesus predicts His Passion, death, and Resurrection for the third time. Again, I marvel at Jesus' patience. He says to them: "You do not know what you are asking. Can you drink the cup that I drink or be baptized with the baptism with which I am baptized?" They say "Yes," but I wonder if they really understand what they are saying "Yes" to. But Jesus tells them that He can't promise them that they will sit at His right or His left.
By this time, the other ten apostles are angry with James and John trying to get these places of honor, and once again, Jesus takes the opportunity to teach them: "You know that those who are recognized as rulers over the Gentiles lord it over them, and their great ones make their authority over them felt. But it shall not be so among you. Rather, whoever wishes to be great among you will be your servant; whoever wishes to be first among you will be the slave of all." And then Jesus speaks about how He will practice what He preaches: "For the Son of Man did not come to be served but to serve and to give his life as a ransom for many."
I am struck by that last sentence: "for the Son of Man did not come to be served but to serve and give his life as a ransom for many." We know about kidnapers and terrorists demanding ransom for a captured individual. We know about hackers demanding ransom to restore a broken computer system. In some cases, the family or the company paid the ransom because the individual or system was worth it.
Jesus gave His life for us because for Him, we were worth it. How important is it for that to sink in! Jesus loves us so much to think we are worth His Passion, death and Resurrection! As it says in our first reading from Isaiah (53:10-11), an excerpt from one of the Songs of the Suffering Servant: "through his suffering, my servant shall justify many, and their guilt he shall bear."
A question I often ask is: What is our response? The first response is gratitude. How can we not be grateful in the face of such love? Even when we're hurting, if we can remember what Jesus did for us, we know we're not alone. As it says in our second reading from Hebrews (4:14-16): "… we do not have a high priest who is unable to sympathize with our weaknesses, but one who has been tested in every way, yet without sin. So let us confidently approach the throne of grace to receive mercy and to find grace for timely help."
The next response is humility. We don't deserve what Jesus did for us! If we can remember that, we wouldn't be trying to lord it over others, or try to throw our weight around, as if we were better than someone else. And yet we seem to be stuck in this pattern of division and contempt of the other. Can we let the love of Jesus pry us loose from hatred and fear?
The ultimate response is love and service. To express our love for Jesus in return for the love He has for us is to worship Him and to love and serve others. As Jesus says to the apostles: "Rather, whoever wishes to be great among you will be your servant." Again, it's not about being "great" among lesser beings. But if we want to reach the full potential of who we were created to be, we will do so by serving others. I believe that the more we are committed to following Jesus, the less we will care about our status in the world.
May the awesome reality of God's love in Jesus Christ lead us to gratitude, humility, love and service.
I welcome any comments or questions. Thanks for your time.
In Christ,
Phil, CP