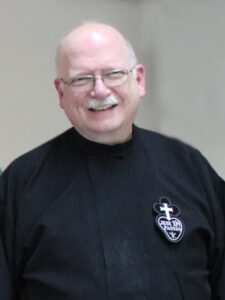 Receiving Each Other
Father Phil Paxton, CP
To all,
In our first reading for Sunday from the book of Wisdom (2:12, 17-20), the wicked are plotting against "the just one." Among other things they say to each other: "With revilement and torture let us put the just one to the test that we may have proof of his gentleness and try his patience." Jesus' enemies certainly worked hard to try His patience, but I think the apostles did a good job at that, too!
Last week, when Jesus predicted His Passion and death and Resurrection, Peter took Him aside and rebuked Him, and Jesus had to rebuke Peter. This week, in our Gospel reading (Mark 9:30-37), Jesus predicts His Passion, death, and Resurrection again. This time the apostles have no response. But they get into an argument. They argue about which of them is the greatest! Again, Jesus does not lose His patience, but instead teaches them that they can't be caught up in that kind of thing: "If anyone wishes to be first, he shall be the last of all and the servant of all." And then He takes a child, puts His rms around it, and says: "Whoever receives one child such as this in my name, receives me; and whoever receives me, receives not me but the One who sent me." Jesus is not only talking about caring for children, but receiving the ones who are the most vulnerable and marginalized in our society, the ones who have no status or clout in the world.
Focusing on that can lead us away from worrying about how we measure up against others, or how they measure up against us. In fact, if we looked at how we are to receive each other in following Jesus, maybe, just maybe, we can take another path than the one that seems to always characterize the "other" as evil or stupid or less than human. When I read our second reading (James 3:16-4:3), I found myself hearing the frustration in James' words, probably because I feel frustrated myself: "Where do the wars and where do the conflicts among you come from? Is it not from your passions that make war within your members? You covet but do not possess. You kill and envy but you cannot obtain; you fight and wage war. You do not possess because you do not ask. You ask, but you do not receive, because you ask wrongly, to spend it on your passions." What would happen if we spent our time and energy in "receiving" each other as children of God, instead of looking to "fight and wage war" with each other?
We need not give in to envy or fear or hatred. Jesus only responded with love, even to the point of dying on the Cross. He has received us as beloved children of His Father. May His love fill us with compassion, "full of mercy and good fruits, without inconstancy and insincerity." And may we "cultivate peace."
I welcome any comments or questions. Thanks for your time.
In Christ,
Phil, CP