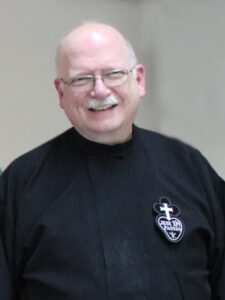 Mercy and Forgiveness
Father Phil Paxton, CP
To All,
When I was serving at St. Paul of the Cross Passionist Retreat Center in Detroit, one of the years I was there as declared a Year of Mercy by Pope Francis. The retreat team, taking its cue from the Pope, decided that mercy was to be the theme for the retreat season. And it fell to me to give the opening talk on the retreat weekends.
As I prepared for the talk, it came to me that mercy was not exactly the same as forgiveness. For me, forgiveness is about pardoning someone for what he or she did. Mercy is forgiving someone for being who he or she is.
In our Gospel reading for Sunday (Matthew 18:21-35), Peter asks Jesus about forgiveness: "Lord, if my brother sins against me, how often must I forgive? As many as seven times?" I always imagine Peter seeing himself as quite generous to suggest "as many as seven times." But, as usual, Jesus blows Peter's assumptions out of the water: "I say to you, not seven times, but seventy-seven times." We have to remember that Jesus is not giving a literal, finite, number to Peter. It isn't as if we are required to keep count, and then we are given a license to lower the boom on No. 78!
To illustrate His point, Jesus tells a parable about a servant who is forgiven a debt of a "huge amount." Some translations actually say "ten thousand talents," which would translate into tens of millions of dollars! Then this same servant harangues and threatens a fellow servant who owes him a much smaller amount. When the master hears of this, he changes his mind about forgiving the debt of the first servant, and has him tortured until he can pay back the whole thing. Then Jesus says, "So will me heavenly Father do to you, unless each of you forgives your brother from your heart."
For me, this parable challenges us to not only look at forgiveness, but at mercy as well. There seems to be little appetite for forgiveness or mercy these days. I think it was the late Cardinal George of Chicago who said, "This society allows everything, but forgives nothing." In our first reading from Sirach (27:30-28:9), the author writes: "Wrath and anger are hateful things, yet the sinner hugs them tight." There may be times when we get angry, and we feel justified in our anger, but when we hold onto our anger for dear life, and are unwilling to forgive or show mercy, that is when we begin to destroy our own soul.
It's important to remember that forgiveness is not the same as condoning bad behavior, or pretending that we have not been hurt. But lack of forgiveness and mercy holds us back, not the other person. When we cannot forgive those people we consider "other," just for being "other," it leads to oppression and injustice, and in some cases, efforts at obliteration.
Why are we so ready to condemn and withhold forgiveness and mercy? Could it be that we have forgotten how merciful God has been to us? On the Cross, God has not held our sins against us! Thanks be to God! And yet, we feel free to withhold mercy and forgiveness to others? Now some people may be thinking, "Well, Father Phil, I've led a pretty good life. I've been a good spouse and parent and co-worker and parishioner. It isn't like I need a whole lot of mercy." Well, let me ask this: Would you have been able to be a good spouse and parent and all the rest without the grace of God? Is there any way you can pay God back for what Jesus did for you on the Cross?
God has shown us mercy and forgiveness time and time again. Our only valid response is to show mercy and forgiveness in return. In some situations, we may have to end relationships, especially when abuse is involved, but forgiveness is always necessary, even it takes a long time for us to forgive, again, for our well-being and our relationship with God. As Sirach says: "Remember your last days, set enmity aside; remember death and decay, and cease from sin!"
I welcome any comments or questions. Thanks for your time.
In Christ,
Phil, CP