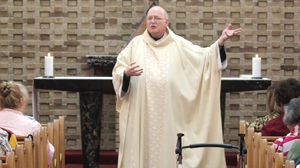 Came Down from Heaven
Fr. Phil Paxton, CP
During the last few days on some news programs, the one-year anniversary of the events that happened in Charlottesville has been noted. To tell the truth, I really hadn't thought of mentioning it, until I sat down to pray and think about my reflection for Sunday. The reading that seems to pertain to marking such an anniversary is our second reading from Ephesians (4:30 – 5:2), where St. Paul writes: "Do not grieve the Holy Spirit of God, with which you were sealed for the day of redemption. All bitterness, fury, anger, shouting and reviling must be removed from you, along with all malice. And be kind to one another, compassionate, forgiving one another as God has forgiven you in Christ. So be imitators of God, as beloved children, and live in love, as Christ loved us…"
In our Gospel reading (John 6:41-51), as we continue the "Bread of life" discourse in John, the people have trouble with Jesus telling them that He is the "bread that came down from heaven." Their reaction is similar to what we heard in Mark's Gospel from the people in Nazareth when Jesus visited there. They figure they "know" who Jesus is and who His family is, and so figure that Jesus is not someone who came down from heaven. They can't see that Jesus is trying to tell them that if they follow Him, and believe what He says about the Father and the kingdom of God, and how they could live in relationship with God and with others, they could have life which the world cannot give.
And it came to me, what if we saw each other as having "come down from heaven?" It's not too far-fetched to think that way. Do we not believe that we, and our sisters and brothers, are children of God? We know that we came out of our mother's womb, but we still speak of God creating us, do we not? Would we be so eager to rush into "fury, anger, shouting and reviling?" The reports on Charlottesville reminded us that the white supremacists, neo-Nazis, etc., were chanting versions of "We won't be replaced!" when they marched. Won't be replaced, as what, exactly? Did they mean being replaced as higher versions of God's children? I don't think there is such a thing. I guess I sound rather ridiculous, right now, trying to reason with people bent on hate, but for those of us who may fall into the trap of being afraid of "being replaced," Jesus offers us another way to think and look at the world. He tells us to follow Him, in love and mercy and compassion. He calls us to Himself as the "living bread from heaven." Just as the prophet Elijah was fed by God to make the journey to Mount Horeb (our first reading, 1 Kings 19:4-8), Jesus gives us what we need to work for justice and peace. We need not fear the "other" if we see him or her as Jesus sees them.
If we really believe that what Jesus gives us can lead us to real life, then the call to rid ourselves of malice makes sense. And even if it does not make sense to the worldly-wise, Jesus has given us Himself to strengthen us for the work ahead.
I welcome any comments or questions. Thanks for your time.
In Christ,
Phil, CP