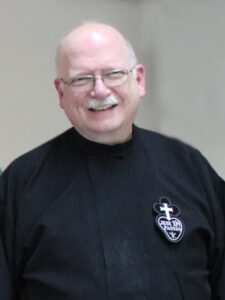 Speak, Your Servant is Listening
Fr. Phil Paxton, CP
I find myself still reflecting on what has been going on in the U.S. these past few days and weeks, and I apologize if I am repeating myself.
In our Gospel reading this for this Sunday (John 1:35-42), Andrew and another disciple of John the Baptist see John point out Jesus and say, "Behold, the Lamb of God." And inspired by that testimony, they follow Behind Jesus for a while until Jesus turns around and asks, "What are you looking for?" They respond, "Rabbi, where are you staying?" and He responds, "Come, and you will see." After the two stay with Jesus for some time, something life-changing obviously happens, because Andrew goes to his brother Simon, and tells him, "We have found the Messiah."
Reflecting on this encounter, I have been asking myself, "Where do we find Jesus today?" I am fairly sure about where we don't find Him. We do not find Jesus in the Confederate flag. Nor do we find Him in white supremacy, or in terror or in the wanton use of violence. We do not find Him in discrimination, or injustice, or in the exploitation of others or of creation. We do not find Him in the demonization of the "other." We do not find Him in hatred or fear or lies. Why do we so often seek the living among the things of death?
Where do we find Jesus? I believe we find Him in the suffering and the grieving. We find Him in the sacrifices so many make for the sake of others and for the betterment of all. We find Him in the care for the most vulnerable among us and for all of creation. We find Him in the working for justice and the making of peace. We find Him in efforts for greater understanding and reconciliation. We find Him in outrageous love!
On Monday, the U.S. celebrates the life of Dr. Martin Luther King, Jr. Dr. King was not afraid to speak truth to power. He was committed to work for justice, knowing that was the only way to real peace. And at the same time, He did not let his desire for justice prevent him from following Jesus's commandment to love, even to the point of loving one's enemies. This is from a talk he gave in 1961:
So that one rises to love on this level, he loves men [sic] not because he likes them, not because their ways appeal to him, but he loves every man [sic] because God loves them. And he rises to the point of loving the person who does an evil deed while hating the deed that the person does. I think this is what Jesus meant when he said "love your enemies." I'm very happy that he didn't say like your enemies because it is pretty difficult to like some people. … But Jesus says love them, and love is greater than like. Love is understanding, redemptive creative, goodwill for all men [sic].
While Jesus is not found in those things I listed above and many more, Jesus still loves those who have chosen those things. And somehow, while we may condemn their actions, and work against what they do, we are still called to love them. And, of course, vice versa.
And how may we follow this commandment of Jesus? I see one answer in Jesus' response to Andrew and his companion; "Come, and you will see." Are we willing to come, and see, and listen to, the "other?" I know I am repeating myself here, but to whatever extent I may have grown in compassion, it is because God gave me the grace to see and hear another's story. Are we willing to be open to Jesus? Are we willing to keep asking, "Jesus, where are you staying?" and then listen to His answer?
Jesus is calling us to love, even now. May we answer in the words of the boy Samuel in our first reading (1 Samuel 3:3b-10, 19): "Speak, for your servant is listening."
I welcome any comments or questions. Thanks for your time.
In Christ,
Phil, CP