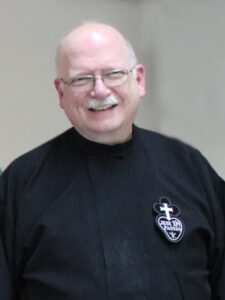 Getting Ready
Father Phil Paxton, CP
To All,
On Sunday the Church begins the season of Advent. There are always two aspects of Advent. One is that we are waiting in anticipation for the celebration of Christmas, the birth of the Son of God become one of us. The other is waiting in anticipation for the time when Jesus comes again. And that second aspect is what is usually highlighted on the First Sunday of Advent.
But "waiting in anticipation" does not mean sitting on our hands doing nothing. It's more in the sense of getting ourselves ready. In this season of celebrating Christmas as a holiday, we see that many people have already been busy putting up decorations outside and inside their homes. We see that some stores have already put out Christmas displays and promotions, some of them even before Halloween! They do this in the hope of luring customers and having a good retail season.
The season of Advent encourages us not to jump to Christmas, but to have that same kind of anticipation and getting ready in our relationship with God, so that we can celebrate Christmas as a holy day, and make ourselves ready for when Jesus comes again.
In our Gospel reading (Matthew 24:37-44), Jesus exhorts His disciples to be prepared: "As it was in the days of Noah, so will it be at the coming of the Son of Man…. Therefore, stay awake! For you do not know on which day your Lord will come… So too, you also must be prepared, for at an hour you do not expect, the Son of Man will come."
Again, Jesus does not call us to live in fear, locking ourselves up in some kind of panic room, waiting for Him to return. We are to prepare ourselves for His coming.
What does it mean to prepare ourselves? We get an idea from our other two readings. In our first reading from Isaiah (2:1-5), the prophet speaks of the coming of the Messiah: "He shall judge between the nations, and impose terms on many peoples. They shall beat their swords into plowshares and their spears into pruning hooks; one nation shall not raise the sword against another, nor shall they train for war again. O house of Jacob come, let us walk in the light of the Lord!"
Can you hear the urgency in that last verse?! Can we see that walking in the light of the Lord involves turning tools of destruction into tools of growth? Can we turn the words we would use to demonize and dehumanize others into words of encouragement and peace?
Similarly, in our second reading from Romans (13:11-14), St. Paul writes: "You know the time; it is the hour now for you to awake from sleep…Let us then throw off the works of darkness and put on the armor of light; let us conduct ourselves properly as in the day, nt in orgies and drunkenness, not in promiscuity and lust, not in rivalry and jealousy. But put on the Lord Jesus Christ, and make no provision for the desires of the flesh."
May we throw off the works of hatred and fear. May we throw off reliance on violence and war. May we throw off injustice and prejudice and discrimination. May we put on love and compassion and mercy and justice and peace. May we put on care of our sisters and brothers and the whole of creation.
It may not seem urgent to get ourselves ready for when Jesus comes. But why wait? The world needs us to prepare ourselves now. May we not be fearful when He comes, but ready.
I welcome any comments or questions. Thanks for your time.
In the Christ who is to come,
Phil, CP