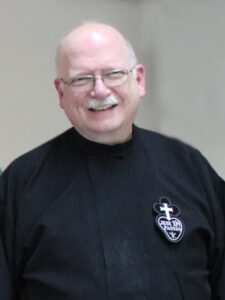 Who is in Need of Healing?
Father Phil Paxton, CP
Last week when we reflected on our Gospel reading where Jesus calmed the wind and the sea, our reflection led us to put our trust in Jesus to calm our fears and anxieties. In our Gospel reading for this Sunday (Mark 5:21-43), we hear of two people who did put their faith in Jesus.
The first one we encounter is Jairus, a synagogue official. Whatever the Pharisees and the scribes thought of Jesus, Jairus comes to Him and pleads with Him to heal his daughter who "is at the point of death." So Jesus sets off with Jairus, and a large crowd accompanying them, to Jairus' house.
On His way there, we hear of the second person who has faith. She is not about to make a public plea for healing as Jairus did. Maybe she is embarrassed to have suffered with hemorrhages for twelve years, not finding any doctors who are able to help her. Or maybe she didn't want to be noticed asking something for herself. Be that as it may, she reasons that all she has to do is touch Jesus' clothes, and she will be healed. That takes great faith! Think about it. She doesn't want to draw attention to herself. She doesn't want to make a big deal of it. But she desperately wants to be healed, and she is going to the only person she can think of that can heal her.
So, she manages to get close to Jesus and touches His cloak. Immediately she feels something, and He feels something. And He says, "Who has touched my clothes?" The disciples are amazed that Jesus would ask such a question when there are crowds of people trying to get close to Him. When we see how Jesus relates to the woman, we know that Jesus isn't asking the question from a spirit of "Who dares to touch me?" Instead, I see it as more of a question of "Who was it that needed healing from me?" This is important to remember, and we'll return to it later.
At this time, people from Jairus' house inform Jairus and Jesus that the girl has died. But Jesus simply says, "Do not be afraid. Just have faith." When Jesus is about to enter the house, there are people wailing and weeping, and when Jesus tells them that the girl is not dead, but asleep, they ridicule Him. But Jesus takes the girl by the hand and says, "Little girl, I say to you, arise!" And she does!
I know for many people, miraculous healings like this have not occurred for their loved ones, despite the many prayers that have been said. But whether the person recovers, or is taken home, there is an end to the pain. It is more difficult to see healing in the case of a long illness, but perhaps in those cases, some spiritual healing may occur, that we may not understand at the moment.
Now back to the question, "Who was it that needed healing from me?" I think that might be a great question when we think about church. When new people come to church, they may be like the woman in the Gospel reading. They may be desperate for some healing. Could we, as a church, be like Jesus' cloak, which people can touch and experience something of the healing love of Christ? Could our question be, not "Who is this person?" but "Are you looking for healing? Come, join us."
May we have the faith to turn to Jesus, and may we be a church that offers the healing that only comes from Him.
I welcome any comments or questions. Thanks for your time.
In Christ,
Phil, CP