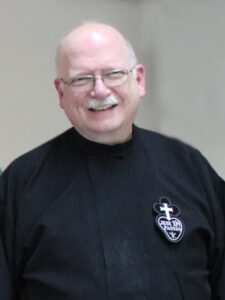 No Blinders
Father Phil Paxton, CP
To All,
In our Gospel reading for Sunday (Luke 16:19-31), Jesus tells a challenging story about a man named Lazarus. Lazarus was a poor man who would lie at the door of a rich man, But the rich man never even lifted a finger to help Lazarus. When they both die, Lazarus is taken up to heaven, to the bosom of Abraham, while the rich man is sent to torment.
When the rich man sees Lazarus with Abraham, he asks that Lazarus be sent to "dip the tip of his finger in water" to cool the rich man's tongue. But Abraham tells him that is impossible. Then the rich man asks that Lazarus be sent to his brothers to warn them. But Abraham says, "They have Moses and the prophets. Let them listen to them." But the rich man persists: "Oh no, father Abraham, but if someone from the dead goes to them, they will repent." Then Abraham says, "If they will not listen to Moses and the prophets, neither will they be persuaded if someone should rise from the dead."
There are two things that I think are important about this parable. One is that the rich man does not have a name, while the poor man in the story is named. I think Jesus did this on purpose. In our society and throughout history, it is the rich and powerful whose names we remember. We pay attention to the rich. We know the names of Bill Gates and Elon Musk and Warren Buffett and Oprah Winfrey. But the poor are basically faceless and nameless, because they have no clout. But Jesus turns all that upside down. In His story, the poor man has a name and a story. God acknowledges the poor person, even though the world may not.
And that brings us to the second point. I don't see the rich man's sin as being rich. The rich man's sin is that he is willfully blind. Lazarus is invisible to him. And that is the challenge for us. Are there people invisible to us? It's very tempting to ignore the poor and the homeless or those on the periphery, as Pope Francis would put it.
We could go even further. Are there people we see, but their humanity is invisible to us? Pick a group. For some, it's immigrants, for others Muslims or Jews or Christians or gays or transgender, or people of color or whites, or liberals or conservatives, Woke or MAGA, and the list goes on.
We cannot be blind to the humanity of others. They are not to be invisible to us. We are not invisible to Jesus; thanks be to God! While we were still sinners, as St. Paul wrote, Christ died for us! We cannot put blinders on and be complacent with what is. What is is not the kingdom of God!
May God open our eyes and our hearts to see others as God sees them; to recognize their humanity and that they are beloved children of God, no matter how far they may have gone astray. May we work for a world in which no one is lacking the necessities of life. May we do our part in building up the kingdom.
I welcome your comments or questions. Thanks for your time.
In Christ,
Phil, CP