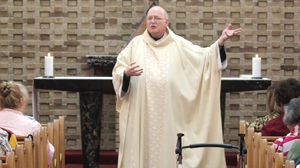 Servant King
Fr. Phil Paxton, CP
On Sunday the Church celebrates Christ the King. There are many hymns that are associated with this feast. One is a traditional hymn entitled "To Jesus Christ Our Sovereign King." When we look at the Scripture readings for this feast, it seems to me to be more appropriate to think about "Jesus Christ our Servant King."
There seem to be many books written nowadays, not just for pastors and religious leaders, but for business people as well, that extol the virtues of servant leadership, but the thirst for power is still a great temptation in our world. Jesus shows us what it means to be a leader, and I thought of some contrasts between Him and what is conventionally thought concerning people in power:
Humility, not Conceit – In our second reading from Colossians (1:12-20), St. Paul seems to be quoting an ancient hymn about Jesus. The hymn speaks about Jesus as "the image of the invisible God." It says, "all things were created through him and for him. He is before all things." And yet, the Son of God became one of us in order to save us. As it says elsewhere in Scripture, "He came to serve and not be served."
Mercy, not Condemnation – In our Gospel reading (Luke 24:35-43), we have the encounter between Jesus and the "good thief" on the Cross. For me, this speaks to something beyond forgiveness. The "good thief" doesn't really ask for forgiveness. He asks to be with Jesus when he comes into His kingdom. And Jesus says "Yes!" The thief didn't earn it, and neither do we.
Reconciliation, not Conquest – Again, in our second reading, it says "For in him all the fullness was pleased to dwell, and through him to reconcile all things for him, making peace by the blood of his cross…" Jesus did not seek domination over others. He did not return violence with more violence. By His sacrifice are we reconciled to God, and if we let Him in, to each other. Jesus did conquer death and sin, but not by causing death or committing sin against others.
Love, not Contempt, but Consolation – On the Cross of Christ, God shows His love for us. Jesus showed His love for the friends who abandoned Him. He even showed love for the ones who conspired to put him there on the Cross!
Are we willing to follow such a King? I don't ask the question lightly. I wonder if sometimes we wish Jesus was more of a worldly king, so that we could justify being more worldly with others. Violence and cruelty are so often justified as necessary in a cruel world. But that is not what our King offers to us. It is not what Jesus calls us to. To follow our Servant King, we must be willing to be servants, too.
I welcome any comments or questions. Thanks for your time.
In Christ our King,
Phil, CP