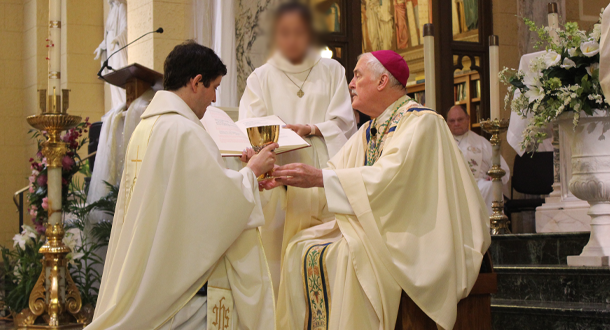 Legacy gifts provide the support the Passionists need to continue their vital ministries. You can leave a lasting legacy to the Passionists by considering one of the following options:
Legal Information
Name:
The Congregation of the Passion, Holy Cross Province
Address:
660 Busse Highway
Park Ridge, IL 60068
Federal Tax ID:
36-6063802
Planned Gifts
We encourage you to consider leaving a lasting legacy to the Passionists through one of the following:
Bequest – A bequest is a gift made through your will or trust and is the most common form of a planned gift.
Charitable Gift Annuity - A charitable gift annuity is a gift to the Passionists and provides a lifetime stream of annual income to you.
Please contact Angela Kwasinski in our Office of Donor Relations if you are interested in the Passionist Charitable Gift Annuity Program. Angela can be reached at [email protected] or 800.295.9048 extension 2206.
How It Works
You irrevocably donate $10,000 or more in cash or appreciated securities to the Passionists.
You and/or your beneficiary receive fixed payments for life.
You can begin receiving payments immediately if you are 65 or older. The minimum age of an annuitant for a deferred payment annuity is 60 years of age, with annuity payments to begin after the annuitant's 65th birthday.
You are eligible for an immediate tax deduction. If you donate appreciated assets, you may save on capital gains taxes as well.
The principal passes to the Passionists after the lifetime of the income beneficiaries.
Beneficiary Designations – Consider naming the Passionists as a beneficiary of your retirement plan (IRA, 401k), a life insurance policy, or your Donor Advised Fund. Beneficiary designations are a simple and powerful way to support our lifesaving work without changing your will or living trust. These planned gifts pass directly to the Passionists without going through the probate process and go right to work supporting our ministries.
Online:
Online donations to the Passionists of Holy Cross Province can be made using any major credit card, including Visa, MasterCard, American Express, and Discover. Simply click here to access our online gift form.
The St. Gemma Galgani Circle of Giving Program:
This program allows you to easily make your gift to the Passionists in regular monthly or quarterly installments from a credit card or checking/savings account. Click here for more information on St. Gemma and to join the circle of giving.
By Mail:
Checks, made payable to The Passionists of Holy Cross Province, can be mailed to:
The Passionists of Holy Cross Province
Attention:  Donor Relations
660 Busse Highway
Park Ridge, IL 60068
By Phone:
We accept gifts charged to Visa and MasterCard by phone. Please call Robin Heart, Donor Relations Associate, at 800-295-9048 extension 2210. Robin is available by phone Monday and Wednesday. Should you need to contact her outside of those days, please email her at [email protected].
A Qualified Charitable Distribution from your IRA
After years of contributing to tax-deferred 401(k)s and IRAs, income tax is due on that money when you take withdrawals in retirement. If you are in the fortunate position of not needing your distribution for living expenses, consider donating your required withdrawal directly to the Passionists, a 501 (c ) (3) charity, which could reduce your retirement tax bill.
Here is what you need to know:
IRA owners must be age 70 1/2 or older to make a tax-free charitable contribution.
Those who meet the age requirement can transfer up to $100,000 per year. If you file a joint tax return, your spouse can also make a charitable contribution of up to $100,000.
An IRA charitable contribution satisfies the annual minimum distribution requirement.
Qualified charitable contributions must be made by December 31 each year.
You can donate all or part of your required distribution.
To qualify for the tax break, your IRA trustee must transfer funds directly from your IRA to
The Congregation of the Passion, Holy Cross Province, 660 Busse Highway, Park Ridge, IL 60068.  
A gift from your IRA supports countless people who will know healing and kindness, forgiveness and acceptance, renewal and strength through the varied and vital ministries of the Passionists.
Stocks and Mutual Funds:
Gifts of appreciated stock in support of Holy Cross Province can often present significant tax benefits.
For complete stock transfer instructions, please click here.
Donor Advised Funds
Please consider investing in our mission and ministries with a contribution from your Donor Advised Fund (DAF).
A Donor Advised Fund is a charitable savings account. You can find these accounts offered by major fund companies, community foundations, universities and individual charities. Once established, you can contribute to the fund as frequently as you like and then recommend grants to the Passionists and any other charitable organizations you support.
If you already have a DAF and would like to send a gift to the Passionists, provide your fund administrator with the following information:
Our Federal Tax ID number: 36-6063802
Make the check payable to: The Congregation of the Passion, Holy Cross Province, Attention: Office of Donor Relations
Our mailing address: 660 Busse Highway, Park Ridge, IL 60068
Click the button at right to access our DAF widget, allowing you to link to your DAF directly. If your fund is not listed in the widget, please go directly to your DAF's website and choose The Congregation of the Passion, Holy Cross Province, as your charity of choice when directing a donation.
The information on this website is not intended as legal or tax advice. For such advice, please consult your attorney or tax advisor.