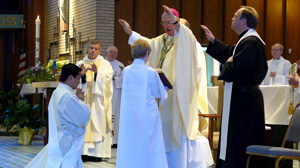 Oh God,
You have chosen the apostles
to make disciples of all nations
and by baptism and confirmation
have called all of us
to build up Your Holy Church.
We earnestly implore You
to choose from among us, Your children,
many priests, brothers and sisters
who will love you with their whole heart
and will gladly spend their entire lives
to make You known and loved by all.
Amen.
-Canadian Bishops
A Prayer for our Earth, Pope Francis