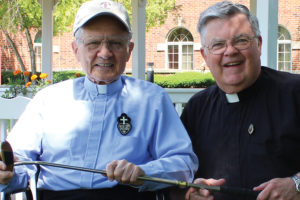 Thank you to all who participated in
Tee It Up for the Passionists!
On Thursday, September 7, 2017, forty-six golfers, staff and Passionists gathered at Ruffled Feathers Golf Club in Lemont, Illinois to enjoy a day of friendship, laughter,  golf and thankfully – sunshine!
Scroll down to view the picture gallery from the event!
We are incredibly grateful to all those who worked so hard to ensure, our 2nd annual golf outing, Tee It Up for the Passionists, was a success.  Thank you to our sponsors, golfers and local businesses who joined together in support of our mission and ministries.
Money raised from this annual event helps support many of our ministries such as:
Parish ministry and preaching
Retreat ministry
Seminarian education
Care for our senior Passionists
Again, thank you for your support of our golf outing and for your presence in the life and ministries of the Passionists of Holy Cross Province.   We would look forward to seeing you in 2018!
May the Passion of Jesus Christ be always in our hearts!
Fr. Frank Keenan, C.P.                      Fr. John Schork, C.P.
Co-chair                                                Co-chair
---
Photo Gallery