Scripture: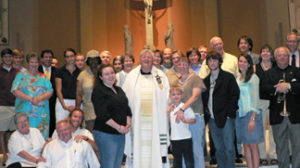 Reflection:
Build Me a House!
"Consider your ways!"  The prophet Haggai urges the people of his day to get their life in proper order.  Worship of God is what is most important in life.  Build a temple!  His message is simple but basic.  God is all important in our practical lives.  I am afraid that for so many of us God comes only after a long list of other things that seem more important to us.
I have been blessed to be able to live in Rome these last weeks.  I have been struck how many temples or churches have been built by those who needed sacred space to worship God.  For instance, our Passionist church of St John and Paul was built in the year 398 AD!  Imagine for the last 1600 years and more people have been worshiping God here every day.  Every day for all these years people celebrate and remember His love for us in the great sacrifice of the cross!  What a beautiful thing this is.
How terribly sad to see so many people never to put a foot into these sacred temples to praise Him who gives us everything beautiful we have in our life.   To praise and worship our Creator and Lover is our most important responsibility we have not only for ourselves but for our families.  At Bethany Jesus reminds a very busy and upset Martha that only one thing is necessary, and Mary, sitting at the feet of the Lord and listening to His word, has chosen the very best!
How well Haggai reminds us: "Thus says the LORD of hosts: Consider your ways!
Go up into the hill country; bring timber, and build the house
That I may take pleasure in it and receive my glory, says the LORD."
Fr. Bob Weiss, C.P. preaches Parish Missions and is a member of the Passionist Community in Louisville, Kentucky.