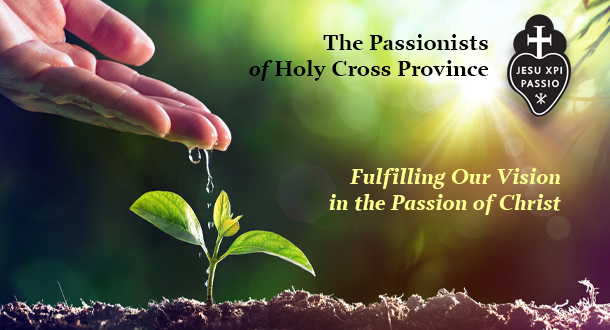 Communicating with Passion
January 7, 2021
IN THIS ISSUE
Happy New Year from the Laudato Si' Team
Living into Laudato Si'
Waking Up: Conversations About Race for the Passionist Family
What Can I Do? Laudato Si' and Purchasing Choices
Laudato Si' in Action: Fr. Hugo's Food Bank in Haiti
Vivir la Laudato Si'!
A Prayer from St. Paul of the Cross
The Laudato Si' Vision Fulfillment team wishes you a happy and blessed New Year!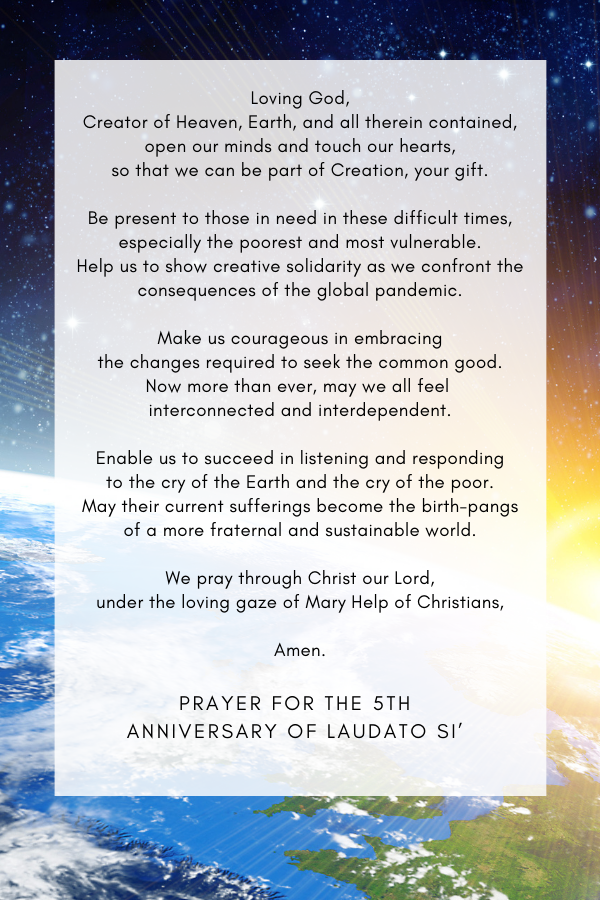 "Human life is grounded
in three fundamental and closely intertwined relationships:
with God, with our neighbor and with the Earth itself."
~Laudato Si'
On May 24, 2020, on the occasion of the fifth anniversary of the encyclical, Pope Francis announced a Special Laudato Si' Anniversary Year from May 24, 2020 to May 24, 2021. Although it may not have made the headlines, we are not only in the midst of a pandemic, political turmoil and protests calling for racial, environmental and economic justice, but we are also in the midst of this special year, celebrating Laudato Si'. The hope it offers us is a "moral and spiritual compass for the journey to create a more caring, inclusive, peaceful and sustainable world".(https://laudatosiyear.org/).
The beautiful thing is, we, as a Passionist Family, are already in motion, already responding to Pope Francis's call to "hear the cry of the Earth" and the "cry of the poor."   From the rain garden at St. Paul of the Cross in Detroit, to the food ministry at Mater Dolorosa in California, to the Waking Up Conversations on Race on Zoom, we have been engaged in reading the "signs of the times" and actively birthing together what the Laudato Si' Anniversary website describes. It is "a new way of living together, bonded together in love, compassion and solidarity, and a more harmonious relationship with the natural world" and each other.
Indeed, this call and endeavor are not new to our charism.

 
The Passionist Rule and Constitutions exhorts us to "share in the distress of all, especially those who are poor and neglected;" to "seek to offer them comfort and to relieve the burden of their sorrow," each of us taking part "according to our gifts, resources, and ministries" (Ch. 1, 3).  It affirms "in a world where the unjust distribution of goods is a major source of division, hatred, and suffering" that we "use our possessions for the relief of suffering and for the increase of justice and peace in the world" (Ch. 1, 13).  The Rule calls us to "co-responsibility and mutual dependence." And Passionist Thomas Berry reminds all of us that "the natural world is the larger sacred community to which we belong. To be alienated from this community is to become destitute in all that makes us human." The spirit of Laudato Si' has always been alive for us as Passionists.
Our challenge is to continue making it concretely present in the world today, to build on what is already in motion, to continue:
Responding to the cry of the Earth, for example, by increasing use of renewable energy and reducing fossil fuels; by working to protect the water and land of which we are stewards; by advocating for the protection of the Earth and her resources; by responsible investing which promotes justice and the relief of suffering; by monitoring supply chains and engaging in ethical consumption; by living simply.
Responding to the cry of the poor, for example, by continuing to stand with the crucified today, with the hungry, the displaced, all those who suffer from injustice; by continuing to move toward becoming an anti-racist institution; by continuing to engage with the pressing justice issues of our time through the Passionist Solidarity Network, Passionist preaching and retreat and individual ministry.
And, most importantly, to continue bringing to life in the world the memoria passionis.  The seeds of any Passionist response to the cry of the Earth and the cry of the poor must be planted in this life-giving soil, from which springs the love necessary to meet the challenge of the integral ecology of Laudato Si'.
Pope Francis, in his letter to the Superior General, Fr. Joachim Rego, CP, on the occasion of the Jubilee, wrote: "Only those crucified by love, as Jesus was on the cross, are able to help the crucified of history with effective words and actions. In fact, it is not possible to convince others of God's love only through a verbal and informative proclamation. Concrete gestures are needed to make us experience this love in our own love that is offered by sharing the situations of the crucified, even totally spending one's life." And we, as a Passionist family, do indeed have concrete work to do and always will. But, perhaps, even more fundamentally, our charge is heard in another sentence in that letter, in a prayer: "May the memoria passionis make you prophets of the love of the Crucified One in a world that is losing its sense of love."
This ultimately is the charge of Laudato Si' - from the Pope, from the Superior General, and from our Provincial - to remain rooted in the love of Christ crucified and to be prophets of this love. From this, all action flows.
And we, on the Laudato Si' Vision Fulfillment Team, offer ourselves as yeast and a resource for the Passionist Family, individually and collectively, to meet this charge, and we are grateful for the opportunity.
Following are examples of windows into Laudato Si' alive in our Province.  We hope they provide encouragement and food for thought as we move into the second half of Pope Francis' Special Laudato Si' Anniversary Year and deeper into our own Vision Fulfillment.
Lissa Romell, co-chair
Marta Salgado-Nino, co-chair
Patty Gillis
David Horvath
Claire Smith
Alex Steinmiller, CP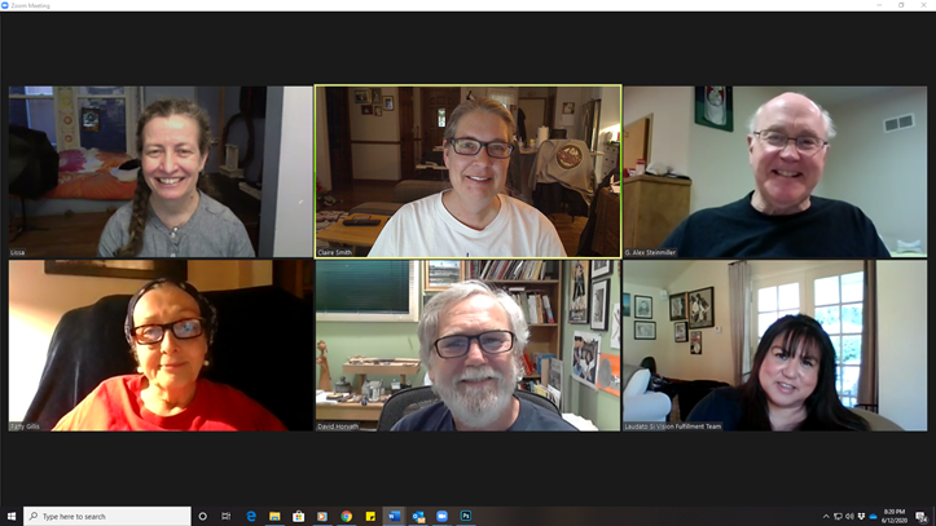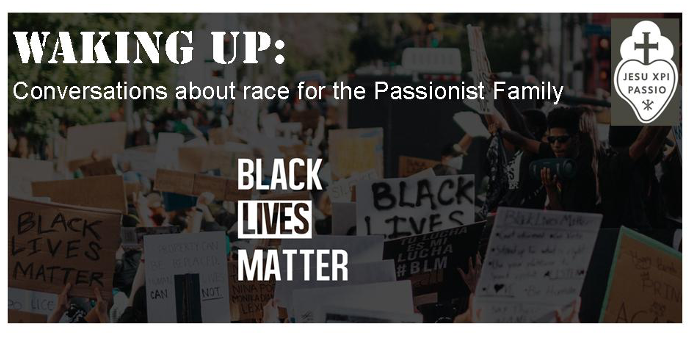 During the Fall, the Laudato Si' Vision Fulfillment team partnered with the Passionist Solidarity Network to offer four sessions of "circle" gatherings for the Passionist Family to engage in conversations about racial justice.  Thirty-three people registered and participated during impactful 90 minute sessions.  Anchored with prayer and reflection, sessions also incorporated spoken word, music and video, as we confronted the historical foundations of the culture of whiteness.  It was a safe-space for deep listening and speaking our truths.  Resource materials between sessions stressed taking small steps toward personal change and action ending with the questions "How do we move forward from here?"  "How do we stay in motion?"
"If you can't fly then run, if you can't run then walk, if you can't walk then crawl, but whatever you do you have to keep moving forward." Rev. Martin Luther King, Jr.
Following the series, we asked participants if these sessions changed their understanding of racial justice.
"Yes, especially because it is only in the last several years that I have gotten in touch with what it means to be "privileged." It is a reality and I still need to keep thinking about how this influences my thinking and my attitudes today."
"What helped me most was hearing from more people, especially the Passionist Family, about this issue. When we saw the video with the young woman speaking to the looting that occurred, and I heard some of the participants' reaction to it; that helped me look at things differently…in particular, I valued hearing the perspective of those directly affected by the injustice of racism."
"We don't need to demonize, nor bludgeon each other with guilt, but we do need to enter into a crucial conversation, we need to talk about it, because it's pretty clear we have not talked about racism in the past."
The intersection between integral ecology and anti-racism is at the core of Laudato Si', which is a call for us to deeply examine our lifestyles, modes of production and consumption and the established structures of power which govern today's societies (Laudato Si' #5). Our current arrangements benefit a small segment of mostly white humanity, which consumes a disproportionate share of the planet's resources.  Fossil fuel extraction and use causes deep environmental devastation, mining for minerals needed for high-tech devices, mono-cultural agriculture and meat production fall most heavily on people of color. "They are the ones whose lands are devastated by mining. They are the ones who live next door to refineries and power plants. They are the ones whose labor has become superfluous in an economy determined to cut costs at all cost."
Blog from Sister Karen Donahue, SOM
What Can I Do?
Laudato Si' and Purchasing Choices
"We all know that it is not possible to sustain the present level of consumption in developed countries and wealthier sectors of society …..The exploitation of the planet has already exceeded acceptable limits."
~Pope Francis, Laudato Si'
All of us have at least one child in our life who is dear to us, and as the child grows, we think about their future. We contribute to that future as parents, grandparents, aunts, uncles, friends of the family, etc. The word "sustainability" is very popular now, but what does it really mean? The essence of sustainability or sustainable living is concern for those we leave behind, the children we love. Sustainability is defined as "a relationship with natural systems that meets the needs of the present without compromising the ability of future generations to meet their own needs."
As Pope Francis has stated, the planet's natural systems on which we depend have been exploited beyond acceptable limits. Our survival depends on clean and healthy air, soil and water. One of the major ways we can support sustainability is in the choices we make when we purchase goods and services. Fortunately, there are many organizations that can help our choices. For example:
Better World Shopper is a public research project for ethical shoppers. Their database has social and environmental data on over 2,000 companies.
Fair Trade Certified tells where to find companies that have safe working conditions and a livable wage for employees, as well as protection of natural systems in their manufacturing and distribution.
Environmental Working Group is known for its Skin Deep database of over 70,000 personal care products, in which products are rated on their dangers to human and non-human life. They also have databases for cleaning products, food, water and pesticides.

Laudato Si' in Action:
Fr. Hugo's Food Bank in Haiti
Is one of your New Year's resolutions to be more physically active in 2021 AND answer Pope Francis' call to hear and respond to "the cry of the poor" (LS 48)? Join the Passionist Alumni who are conducting a "Road Tour Around Haiti" fundraiser to support "Fr. Hugo's Food Bank."
Imagine you could travel across Haiti by just getting out of bed or getting off the couch. What if almost every activity you performed (walking, fishing, exercising) helped take you to new places where you could learn about both Haitian culture and the work of Passionists Fr. Rick Frechette, CP, and Fr. Hugo Esparza-Perez, CP, in trying to deal with the health, education, and food needs of the Haitian people?
Click here to find out more about participating in the tour and to watch a video on how "Fr. Hugo's Food Bank" started.

Holy Cross Province Laudato Si' Webpage
to celebrate, educate and engage Laudato Si' in Holy Cross Province.
Laudato Si' Webliography
offering easily accessible resources
to support the Passionist Family in Caring for Our Common Home.
Lenten Resources
to support us, during the sacred time of Lent,
in moving more deeply into our baptismal commitment to walk in the
footsteps of Jesus by living in harmony with God, our neighbor and the Earth itself.
And much more--stay tuned!

"Jesus, my love, burn with love the heart of my spiritual daughter! Make her humble, simple as a child, transformed into your holy love! O Jesus, life of my life! Joy of my soul! God of my heart! Receive her heart as an altar on which is sacrificed the gold of most ardent love, the incense of continual prayer and the myrrh of constant mortification."
"Dear God, teach me to love. I use the word often, but I don't think I have fully come to understand its true meaning. You loved your children, and so you gave everything for us. Teach me that true love is selfless and compassionate and joyful. Fill my heart with love not just for those who love me, but for all those in my life. Let me remember what it feels like to be without love, so that I might be generous with the gifts of my heart."
Holy Cross Province Vision Statement
Guided by the Holy Spirit and the signs of the times,
we create and carry out ministry that reaches
the suffering of today and form community
that spiritually nourishes the
Passionist Family of Holy Cross Province.
If you would like to share your thoughts, ideas or reactions from anything in this newsletter, we would love to hear from you!
Send your thoughts to
[email protected]
Copyright © 2020  All rights reserved.