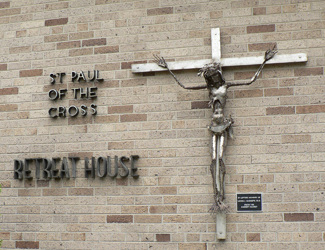 A Gift
Fr. Phil Schaefer, CP
Dr. Louis Gariepy was the house doctor of the Passionists in Detroit, Michigan.  The Catholic hospital where he had his office was closing.  During the process of moving, he gave the Passionists the Crucifix that hung in his office.  Today, it adorns the main entrance of our Passionist Retreat Center.
If you look closely at this precious gift of metal, you will find it to be quite exceptional.  The distinctive feature is the hands and wrists.  The nails are in the wrists rather than in the palms.  But, something else makes the sculpture even more unique – the wounds are also in the palms of our Lord's hands.  In the sculptor's mind, the executioners, after initially driving the nails through His palms, felt that they
would not support the weight of their victim.
The next time you visit our Passionist Retreat Center in Detroit, take a moment to look at this exceptional work of art, admire the sculptor and say a prayer of thanks to Dr. Louis Gariepy for his gift.  May both he and his wife rest in peace in the loving arms of our Lord.