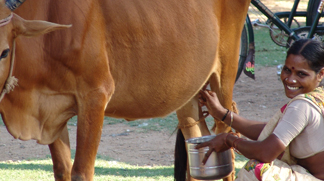 In 2000, the Passionists began a life-changing program in the village of Randham in southeastern India that would provide vitally needed nourishment for the children while providing their parents with a source of ongoing income.
Beginning with just a few families at a time, the Passionists made loans for the purchase of either a plowing bull to work the land or a milking cow. The milk was a supplement to the children's meager diet, and could also be sold to others, creating an additional source of income for the family. Over time, the loans were faithfully repaid, and the Passionists were able to purchase more cows for other families.
Today more than 350 families have purchased a cow through the Passionist "cow loan" program, and more are awaiting the opportunity to participate.
Many of the villagers whom our Passionists live among are impoverished people for whom there are few opportunities to improve their circumstances in life. The chance to receive a loan for a cow, feed one's family, and experience the pride of ownership once the loan has been repaid is more than a "hand up." It's a ray of hope and a step toward a better future.