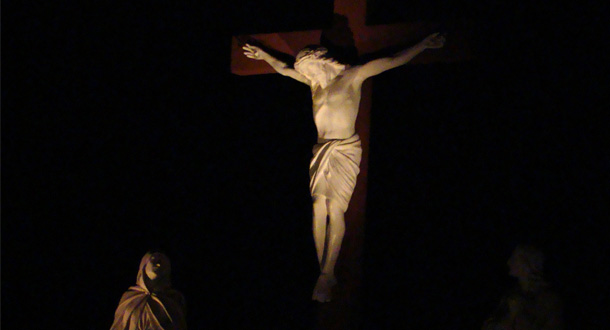 Scripture:
Reflection:
A gentile came up to the great rabbi Hillel and challenged him: "Teach me the Torah while I stand on one foot."  Hillel responded: "That which you hate, do not do to others.  That is the entire Torah.  The rest is simply explanation.  Go and learn it."  Hillel was paraphrasing the command to love one's neighbor.
The evangelist John is Hillel for us today with one of the most recognizable verses in the New Testament is here before us:
"For God so loved the world, that he gave his only begotten son, that whoever believes in him should not perish, but have eternal life." (Jn 3:16)
This is the whole gospel in a nutshell.
So popular and familiar is it that this passage, or its verse number, John 3:16, is emblazoned on T-shirts and sweatshirts.  It is printed on coffee mugs, bookmarks, bumper stickers, even on the bottoms of In-'N-Out milkshake containers.  During football games and baseball games, someone, usually wearing a wild multi-colored wig, is waving a placard for all to see.  And it reads: John 3:16.
But, despite all this biblical zeal, there lurks a problem.  The passage has been clipped from its contextual moorings.  Consequently, its real meaning and impact have been lost, gone adrift in a sea of sentimentality.
The passage is indeed about God's love for us, for the whole world.  God loves us so much that he gave us his son.  No argument there.
The issue lies with the word "gave."  John, the evangelist is using poetic word play here. That is, he's using a word that has both a literal and a deeper symbolic meaning.
In the Greek, the word "gave" is didomi.   It can mean quite literally "to give," as in God "gave" us the gift of his son.  But the word also has another, deeper meaning.  It also means to surrender, to deliver up, hand over, as in Jesus was handed over, surrendered to the Romans for crucifixion.
The passage now reveals a richer meaning.  Yes, God loved us so much that he gave us his greatest gift, his son.   But it means more.  It means that God so loved the world that he surrendered his greatest gift, his son, to humanity's evil of crucifixion.  This love is not abstract or mawkishly sentimental.  This costly love would cost everything, even death on a cross.  This is the whole of the Gospel while standing on one foot.  It is now for us to go and learn it.

Deacon Manuel Valencia is on the staff at Mater Dolorosa Passionist Retreat Center, Sierra Madre, California.