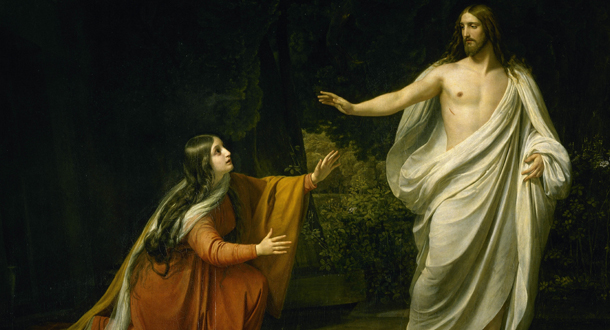 Scripture:
Reflection:
In 2004, Oscar Solis was ordained an auxiliary bishop in the Archdiocese of Loss Angeles, the first Filipino-American bishop ordained in the United States. Shortly thereafter, Bishop Solis accepted an invitation to have lunch with the leadership of my parish, St. Rita's, in Sierra Madre, California. As it happened, I was seated next to him. During our conversation, I noted what a great honor it is to be ordained the first Filipino American bishop in the United States. I then asked him what kinds of qualifications are required to become a bishop. Without hesitation, and with touching sincerity, he replied, "I wasn't qualified. But God does not call the qualified. God qualifies the called."
This episode brings to mind today's gospel. There is something similarly touching, even lovely, about Jesus making his first resurrection appearance to Mary Magdalene. One would have expected Jesus to grant this honor to one of the disciples of his inner circle. But no. He picked Mary Magdalene. "Go to my brothers," Jesus said, and announce that I have risen.
Jesus chose Mary Magdalene, even though her testimony would not be accepted because she was a woman, to make the greatest proclamation in the life of the church.
This is the beauty evident throughout Scripture. For some mysterious reason, God has a peculiar habit of choosing the unlikeliest of people to partner in his work.
God chose Joseph to save God's people from famine, even though he came from a family so dysfunctional that his brothers sold him into slavery.
God chose Moses, a stutterer, and a murderer, to lead the Israelites out of Egyptian bondage.
God chose Rahab, a Gentile prostitute, to aid the Israelites in conquering mighty Jericho.
The list goes on. God has a habit of choosing broken, messy, sinful men and women to serve him. And don't forget the disciples, this ragtag bunch of feuding, uneducated, uninfluential, and hard-headed men. Yet, Jesus called them – by name – to join him in his ministry.
Jesus called them by name. In the same way, Jesus called Mary Magdalene by name. And in that moment of grace, she recognized Jesus. Since earliest times, the Eastern Church appropriately began calling Mary Magdalene the isapostolos, the one equal to the apostles, the apostle to the apostles, the first envoy, called to proclaim the resurrection.
Easter is the time when we are exhorted to join Mary Magdalene in the garden, and to encounter the Risen Jesus. And by our baptism, Jesus calls us by name. Despite our failings, our flaws, our faults, and our brokenness, we too are called to rise to new life and to testify to the Good News.
Admittedly, we are clearly, plainly, definitely, obviously, not qualified for such a ministry.
That's okay. God will qualify us.
Deacon Manuel Valencia is on the staff at Mater Dolorosa Passionist Retreat Center, Sierra Madre, California.