Scripture: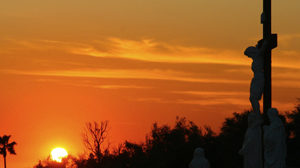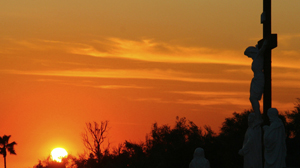 Acts 5:17-26
John 3:16-21
Reflection:
More Than a Word:  Love!
The opening verse of today's Gospel has been boldly proclaimed by highway billboards and bleacher-folks of all types.  "God so loved the world that he gave his only-begotten Son…"  Though repeated often and in often creative ways, the message still "packs a punch":  God…does…love…us!!  No if's, and's, or but's about God's Love.
In one sense, "love" is a word used so frequently that it has lost some of its force, its value:  people love their children, their pets, a good meal, and Monday night football.  Rooted in the reality of God, "Love" is a precious word that is to be used carefully and with meaning, never carelessly or casually.  True love is backed up with commitment and action – as is found in the person of God:  God's love for us is real, not shallow, and it's backed up with personal "testimony" in the life of Jesus himself.
Jesus' love has been our focus the last days of Lent, the Triduum itself, and now the glorious 50 days of the Easter Season.  Descriptive words for God's love come to us these days in our praying the Scriptures and events in Jesus' life:  glorious, redemptive, enduring, suffering, generous, precious, sacrificial, joyful – to name a few.  These descriptive words for God's love are most welcome as we experience our share in Jesus' Cross in our recent U.S. natural disasters in the Midwest and Southern states, in the ongoing conflicts in so many parts of the world – and in the commitment of married love by couples both simple and royal.  "God so loved the world…that whoever believes…might have eternal life."
On fire with God's love in their lives, the early Apostles gladly suffered imprisonment and ridicule – and for many, even martyrdom – for  spreading the Good News of Jesus.  The same divine Love is true for us and through us as members of the Passionist family, living centuries later and in other parts of the world.
Today, we ponder God's redemptive Love in Jesus – and we seek to best live that Love.  May we be blessed as Easter People…living "billboards" and "bleacher-folks" alike.
Fr. John Schork, C.P. is the local leader of the Passionist community in Louisville, Kentucky.