The Passion of Our Lord Jesus Christ
Scripture:
Isaiah 52:13-53:12
Hebrews 4:14-16; 5:7-9
John 18:1-19:42
Reflection: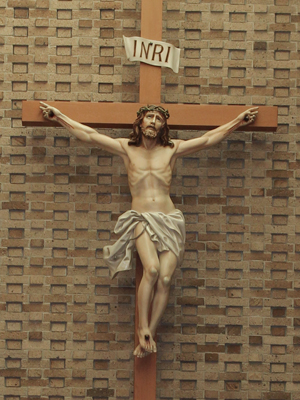 Here at our beautiful St. Paul of the Cross Passionist Retreat Center we are privileged to have an amazing and bigger than life portrayal of Jesus Christ Crucified. This powerful image is placed directly above the tabernacle and captures the immediate attention of all who enter our Chapel.
What makes this particular crucifix so compelling, in fact, is that it is inspired by the Limpias Crucifix, located in the 16th century Church of St. Peter in Santander, Spain, not far from the popular alleged apparitions of the Blessed Mother in Garabandal. Even more unique is that, in this crucifix, the eyes of our Savior are open, no wound in the side, indicating that Jesus is in the final moments of pouring out his life for us all.
Why is this so special, not only to our worldwide Passionist family, but for all Christian men and women everywhere? This crucifix brings to life two very important dimensions of what we so devotedly refer to as the "memoria passionis," or the "memory of the Passion." In our prayer, as well as in our ministry, we Passionists, by a special fourth vow, promise to remember every single day both the historical moment when Jesus was crucified on Calvary, and, with just as much energy and zeal, we choose to be very mindful all those who are the crucified ones in our world, in our cities, and on our streets.
And who are the crucified of today? How can we not think of all those innocent men, women, children, and infants in the Ukraine whose lives are being eradicated as if they are nothing more than mere rubble! We are ever mindful of the thousands of people all around the world who are discriminated against because of race, color, religious beliefs, and gender. In our own land we cannot overlook the shocking number of men and women, young and old, who are increasingly joining the ranks of living and deceased casualties of the often-overlooked opioid crisis. And I am also inclined, in a personal way, to think of women and children who are abused in dysfunctional, loveless homes, as well as those who are alone in their final hours of life with no one to comfort them.
On this Good Friday, dear friends, as we meditate in deeply heartfelt ways on the sacred Passion of Jesus Christ, let's not forget to also think of those who are also crucified with him in our world today.  May the Passion of Our Lord Jesus Christ be always in our hearts.
Fr. Pat Brennan, C.P. is the director of Saint Paul of the Cross Passionist Retreat and Conference Center, Detroit, Michigan