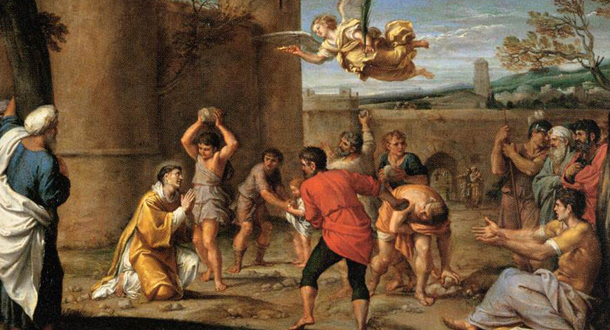 Scripture:
Reflection:
In his Biblical Meditations for the Easter Season, the late Passionist priest and biblical scholar Carroll Stuhmueller, CP, noted that the death of Stephen, which is recounted in today's reading from the Acts of the Apostles, strikingly resembles Jesus' death on the cross. Like Jesus, Stephen is accused of blasphemy and "condemned to death by the Sanhedrin." Like Jesus, Stephen "sees a vision of someone at the right hand of God" and prays that God will forgive those who kill him.
Stephen could die like Jesus only because he strove to live like Jesus. He could imitate Jesus in his dying precisely because he had given himself completely to Christ every day. And yet, we cannot adequately understand what empowered Stephen to speak so boldly "to the people, the elders, and the scribes" and to be so unshakable in the face of a violent death, unless we appreciate how thoroughly he took to heart Jesus' proclamation in today's gospel. When asked by the crowd for a sign "that we may see and believe in you," Jesus responded with the declaration upon which Christians base their lives and center their hopes: "I am the bread of life; whoever comes to me will never hunger, and whoever believes in me will never thirst."
All of us look for something to satisfy the deepest longings and most abiding hungers of our lives. We look for something to fill the emptiness, to ease our anxiety, and to make us whole. Sometimes we never find the healing and peace we so desperately need because we seek it in things that can only disappoint us. Instead of wasting our time—and our lives—on "food" that can only leave us morally and spiritually famished, we need only to open ourselves to Jesus, "the bread of life" who offers himself to us every moment of every day, especially in the Eucharist. If we do, we will know the joy and peace that filled Stephen even in his dying.

Paul J. Wadell is Professor of Theology & Religious Studies at St. Norbert College in De Pere, Wisconsin, and a member of the extended Passionist family.