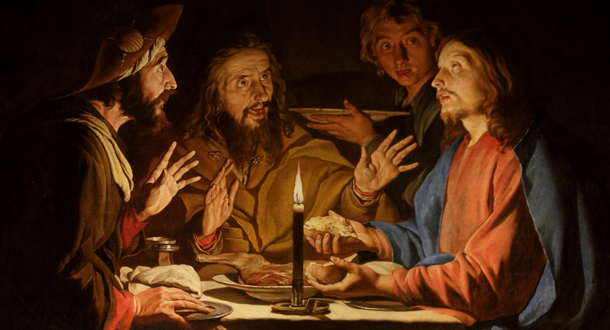 Scripture:
Acts 3:13-15, 17-19
1 John 2:1-5a
Luke 24:35-48
Reflection:
…And how Jesus was made known to them in the breaking of bread…Peace be with you…recall the words I spoke while I was still with you…
The disciples are fresh off their journey to Emmaus…they are still talking about recognizing Him in the breaking of the bread…but they are scared to death when he again stands in their midst!
We say we recognize him in the breaking of the bread – in the Eucharist – St. Augustine reminds us we are invited to become what we eat – we recall the Words of Jesus – do this in memory of me – who do we recognize? What facets of Jesus do we want to embrace and embody? Do we allow our hearts to be filled with God's Peace?
If we really pondered these questions how would that change the way we are present to all those around us? Would we continue to be 'startled' when he comes into our midst? Can we let Peace fill our hearts, recall Jesus' words and recognize him because of our participation in the breaking of the bread? What startles us about the poor, those that think differently than us, look different than us or challenge our assumptions? Who is the Jesus that we recognize? What is this Jesus asking of us? How are we responding to the invitation to be a part of the unfolding of the Easter Mystery – the building of the Kingdom of God?
Today's readings challenge us to integrate the stories of Scripture – our salvation history – revealed in God's Word and the stories of our lives. How do the stories of our lives help us identify the 'God moments' those times when we met God in the most unexpected places or the most unexpected people or circumstances and life was not the same, those intersections are places where God opens our minds to greater understanding.
Are we willing to notice and because of the noticing how is our response different?
Faith Offman is the Associate Director of Ministry at St. Paul of the Cross Passionist Retreat and Conference Center in Detroit, Michigan.