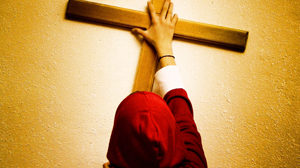 Scripture:
Acts 3:13-15, 17-19
1 John 2:1-5a
Luke 24:35-48
Reflection:
My children, I am writing this to you so that you may not commit sin. But if anyone does sin, we have an Advocate with the Father, Jesus Christ the righteous one. He is expiation for our sins, and not for our sins only but for those of the whole world.
I John 2:1 -2
Divine Mercy Sunday was introduced into our Church calendar by St. John Paul II, when he was Pope. This Sunday, the scriptures continue the theme of Divine Mercy.
Earlier this week, I read an article about a wrongly convicted man who spent over 30 years on death row because of false testimony given by a 13 year old boy. A vicious murder took place in his neighborhood. The police took statements of some onlookers and a 13 year boy told them he saw what happened. He lied. He identified an 18 year old man who was not even present at the crime. The District Attorney provided the witness with all the "facts" that he gave at the trial. Even then, the inconsistencies were many.
The Innocence Project finally got involved, and the witness confessed his false testimony. The witness said that he had the courage to come forward after his pastor asked him if he had lied on the stand. The wrongly convicted prisoner said that he had long come to terms with this injustice, in fact, early in his sentence. He said he realized he needed to forgive his accuser or he would become a bitter man.
The one having the most trouble is the one who gave false witness. He is having trouble believing that he has been forgiven. He said in a statement that he does not know how this man has the courage to forgive him when he cannot forgive himself.
Mercy is a grace. Sometimes, it is easier to forgive someone who has hurt us badly than to forgive yourself. I remember talking to a young woman who could not accept the fact that God could forgive her. She left, unconvinced.
In order to forgive oneself, we need to recognize our own sinfulness, our own need for God's mercy. If we do not begin there, we become judgmental, condemning others for minor offenses while we live with our deep, dark secret, our sin.
When Jesus forgave those who had betrayed or condemned him, He was releasing them from the burden of their sinfulness. They first had to accept the gift of Jesus' forgiveness before they could go and forgive others. For me, these Easter Scripture readings are all about God's Mercy. They are about facing my own sinfulness with faith in God's Love and Forgiveness. God first loved us, while we were still sinners!
This is how the Gospel ends up for today: "Thus it is written that the Christ would suffer
and rise from the dead on the third day and that repentance, for the forgiveness of sins, would be preached in his name to all the nations." Isn't this beautiful?
Alleluia! Jesus is risen from the dead! May our forgiveness lead to forgiveness of others!
Fr. Clemente Barrón, C.P. is a member of Immaculate Conception Community in Chicago, Illinois.