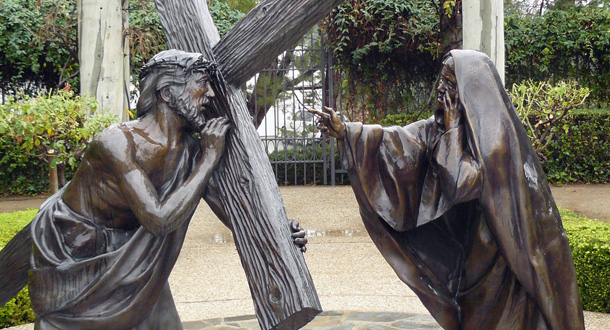 Scripture:
Jeremiah 11:18-20
John 7: 40-53
Reflection:
After a month of watching the horrors of the war in Ukraine on cable news, I noticed recent stories are more than the recounts of deaths and devastation. The news commentators are now describing the various ways people are responding to the violence. There are interviews with refugees trying to find a meal and a bed, ambulance drivers who flew in from other countries to transport people and medical supplies, Ukrainians who have never picked up a gun joining the military, nurses and doctors serving in bomb shelters, and international aid agencies responding to the needs of millions.
This has led me to ask: What can we as Christians do about violence? This is not a new issue of course. We have seen incidences of violence in Scripture from Genesis on. In today's first Scripture reading from Jeremiah, we hear the prophet describe the plot to kill him and "cut him off from the land of the living, so that his name will be spoken no more." And in today's Gospel, we hear the people's ambivalence about Jesus; some believe in Him and some want to arrest Him.
In these last weeks of Lent, as we walk with Jesus to Calvary, our meditation on His Passion is more intense. And we can learn a lot from the way different people in the Passion narrative respond to violence. Jesus is our way to peace; and he tells us we must be converted—we must first rid ourselves of the violence in our own hearts. In a world where the attitude is often "might is right," Jesus calls us to let go of our sense of entitlement, our resentments, and our desire for revenge. When many relationships are often no more than contractual, we are called to surrender to loving and being loved unconditionally. When we are overcome with fear, we are called to trust.
Today's psalm response: "O Lord, in you I take refuge" is a prayer for our own conversion, and for all those who suffer from violence this day.
Patty Gillis is a retired Pastoral Minister. She served on the Board of Directors at St. Paul of the Cross Passionist Retreat and Conference Center in Detroit. She is currently a member of the Laudato Si Vision Fulfillment Team and the Passionist Solidarity Network.