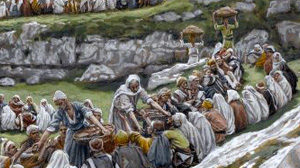 Scripture:
Acts 6: 8-15
John 6: 22-29
Reflection:
In today's Gospel, John tells us that on the day after Jesus had fed the 5000 a crowd of people sought him out.  They had to travel across the Sea of Galilee to find him.  When they found Jesus they had one question for him, "What can we do to accomplish the works of God?"
Perhaps they wanted to be able to do the amazing things that Jesus did.  Perhaps they were asking Jesus if he had any tasks for them to do.  Jesus answer seems quite simple, "This is the work of God, that you believe in the one he sent."  Jesus asks them, and us, to believe in him.  Simple enough, I suppose.
Before we get to sure of ourselves, we should look at the first reading for today.  Clearly, Stephen believed in Jesus, the one God sent.  He was more than willing to stand up and witness to his belief in Jesus.  It gets him into a lot of hot water.  First the Pharisees try to debate with him.  When they lose the debate, they find some men to claim that they heard him blaspheme God.  When brought to trial, they then hire false witnesses against him.  It's clear that few believe the false testimony, nonetheless, his fate is sealed…and he will become the first martyr for his belief in Jesus.
This reading from Acts reminds us that belief in Jesus has consequences.  Truly, belief in Jesus changes the way we look at our world and forms our responses to it.  Trust in God, compassion for and forgiveness of the sins of our brothers and sisters, hope in the face of human tragedy and love even for those who injure us are all expressions of believing in the one God sent.
During this joyful season of Easter, we pray for the gift of believing in Jesus and the courage to publicly witness our belief.
Fr. Michael Higgins, C.P. is the director of Mater Dolorosa Passionist Retreat Center, Sierra Madre, California.