Scripture: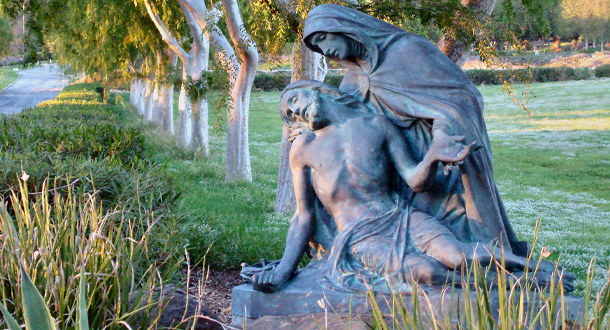 Reflection:
Enable your servants to speak your word with all boldness.  Acts 4:20
An important word, witness, in New Testament helps to define what it means to be a Christian. Witness (martyreō) appears in its derivatives 295 times in NT. It means to be an eyewitness i.e. to affirm that one has seen or heard or experienced something, or that he knows it because he is taught by divine revelation or inspiration.
A simple definition of witness in Scripture is found in today's liturgy:  "Enable your servants to speak your word with all boldness."  The SS reminds us not only to grasp tightly the Risen Christ around His feet as the women did in Mt gospel, but also to boldly encourage others to do the same!  The Risen Lord had the habit of coming and going unexpectedly.   They wanted to keep Him there!   "There is salvation in no one else!" Act 4:12  The word for boldness is  parrēsia which means primarily, "freedom of speech, unreservedness of utterance," "the absence of fear in speaking boldly; hence, confidence"
Parresia is one way we witness to the Living Christ today.   Lack of conviction plus fear of what others may think can easily stop most of us from "speaking your word with all boldness".  "  For whoever is ashamed of Me and My words, the Son of Man will be ashamed of him when He comes in His glory" Lk 9:26  The word used for ashamed comes from aischos (disfigurement, i.e. disgrace).  We are made to believe that the teaching of Our Lord is narrow minded and wrong.  We let despicable practices against Christianity stand without challenge.
Perhaps one of our problems is we are far too quiet in our very secularistic climate.  Amid our rapidly changing and at times shameful culture, it seems so easy for us to let things degrade which took 2000 years of Christianity to establish.  It is a major Scriptural challenge to us to be a witness to our Living and Risen Christ!

Fr. Bob Weiss, C.P. preaches Parish Missions and is a member of the Passionist Community in Louisville, Kentucky.