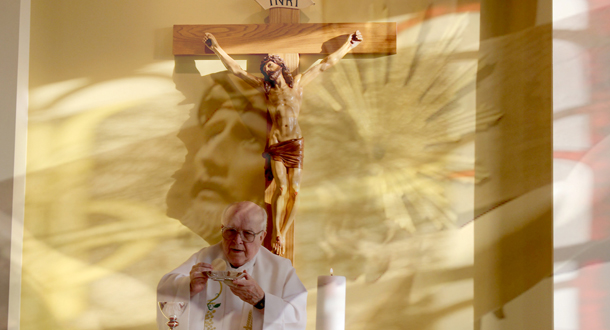 Scripture:
Reflection:
Some years ago a provocative thought was put on a large billboard: WE NEED TO TALK. Signed God! This sign was a wonderful and simple reminder of the most important work of our lives! We desperately need to have a talk with God, This is what we call prayer. In today's Scripture we have a text that enlightens us how to go about praying. "My sheep hear my voice, and I know them, and they follow me." Jn 10:27
One of the first steps of sitting down and communicating with God is for Him to speak with us. All good communication starts with listening. We believe that the Sacred Scriptures contain the "living and highly energetic Word of God." Heb 4:12  If we are serious about listening to God we should have a passionate interest in His Word!
Deep listening to God's Word leads to intimacy with Him, "Though God's Word to God's Heart" is how St Gregory beautifully expressed it long ago. In today's Gospel people asked Jesus "How long are you going to keep us in suspense"? ( airo in Greek NT which means hanging in air)  We are not at all likely to know Jesus and find ourselves left in the air if we have no strong prayer life.  St Gregory of Nyssa about 17 hundred years ago remarked "the majority of people grievously neglect in their life this sacred and divine work which is prayer.   We must listen attentively to the Divine Voice." He incisively says: "prayer is intimacy with God".
Lastly, today's liturgy says "they follow me." How often discipleship is expressed by following Christ. One must keep close to the other to follow!  The other SS Word used for follow is to walk with Jesus. Jesus asked his close disciples: "will you also walk away from me?" Not to pray is to walk away from Christ. He tells us "pray always so that you are not left in bad way!" Lk 18:1
Fr. Bob Weiss, C.P. preaches Parish Missions and is a member of the Passionist Community in Louisville, Kentucky.