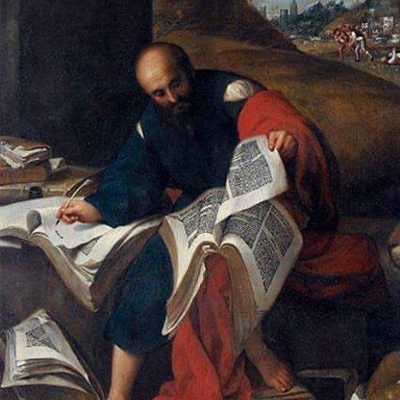 Feast of St. Mark the Evangelist
Scripture:
Reflection:
Many years ago, when I was a seminarian, I was introduced to a book entitled, Gospel Parallels. It was a very convenient way to read and study a particular narrative — alongside its counterparts in the other Gospels. But the delight of such expedience soon gave way to frustration, because I soon discovered what seemed to me to be "contradictions" in some passages. For example, in the resurrection narratives, Matthew is the only evangelist who records the first appearance to the women, while only in Luke do we find the account of the two disciples on the road to Emmaus. John's is the only Gospel which records the appearance of the Risen Christ in the upper room, when Thomas was absent, and the appearance on the Sea of Galilee. And Luke doesn't include the appearance to Mary Magdalene. And these discrepancies are just from the Easter story!
At first glance, this might sow seeds of doubt in a person of faith, but today's feast of St. Mark helps us to see things in a brighter light. Each of the four Gospel writers addresses a different audience and, thus, has a different focus and different emphasis. A particular evangelist is trying to respond to the needs of a specific faith community.
Ever notice how the readings in this Easter cycle are just saturated with a sense of WONDER? The apostolic zeal, the fervor for mission in the early Church… are "over the top" in some ways! Words used to describe this ardor include "shouting, fever pitch," and so forth. And yet…
Maybe that's why I like St. Mark so much. His portrayal of the first disciples is so human, so authentic — describing them as incompetent and oblivious, impetuous and arrogant.  Mark's Gospel doesn't have the lofty poetry or complex theology of John. In the verse immediately before today's passage, we are told that Jesus "rebuked the disciples for their disbelief and hardness of heart." In Matthew's Gospel, after Jesus' death and resurrection, the author tells us that as Jesus commissions his disciples, "they worshipped him, but they also doubted"!
Truly we are a human Church! But we revel, especially during this special jubilee year, in the MERCY of our loving God through it all!

Fr. Jack Conley, C.P. is a member of the Passionist Community at Christ the King Passionist Retreat Center in Citrus Heights, California.