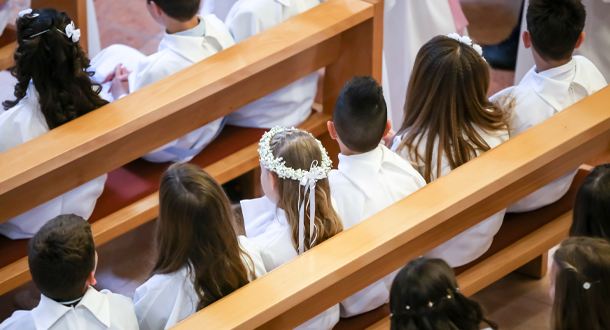 Scripture:
Reflection:
The scriptures of Easter season are filled with the Good News of the Risen Jesus! The responsorial psalm calls us to:
"Go out to all the world and tell the Good News!"
What is this Good News?! How do we as believers in the Risen Jesus go out and spread this good news to believers and non-believers alike? What is the Good News in your life that you want to share because of the hope and promise of the Resurrection?!
Yesterday we celebrated with our first grandchild, Everly, as she received her First Holy Communion! In his homily, Fr. Joe, a visiting pastor, shared memories of his First Communion received over 70 years ago. He reminded the children and all of us that having received Jesus means that we carry Jesus in our hearts in a special way. He challenged us to share this Good News as we participate in a life of service to our sisters and brothers!
We live in turbulent times, no doubt about this! Here in the city of Louisville, we are reeling from a terrible shooting tragedy on Easter Monday that left five people dead along with nine people injured, one of those remains in critical condition. It has been a time of church and civic leaders to come together with grieving family, friends and the community at large to pray for an end to this senseless violence.
Where is the Good News being proclaimed in the midst of this heartbreak and sorrow?! Good News continues to happen through the outpouring of service and love among the community and the commitment on the part of lawmakers to work more earnestly for justice.
Good News can be found in the conversion story of Saul as we read the familiar account found in Acts. Saul repented and Paul became a believer in the new life we celebrated at Easter. Paul dedicated his life to preaching the risen Jesus thus bringing many new converts into the fold.
Good News can be seen and heard as those eighty first communicants, their parents, families and friends share the blessings and nourishment they experienced in celebrating in Eucharist at the Table of the Lord. Jesus gives us hope and promise in these words from the Gospel of John:
"Whoever eats my Flesh and drinks my Blood,
Remains in me and I in them, says the Lord."
May we continue to be Resurrection people, sharing the Good News and hope it brings to all. Alleluia! Alleluia! Alleluia!
Theresa Secord is a Pastoral Associate at St. Agnes Parish, Louisville, Kentucky.