Good Friday of the Passion of the Lord
Scripture: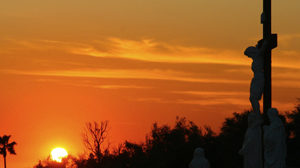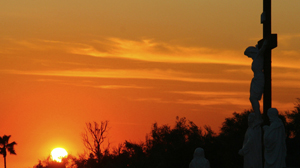 Isaiah 52:13-53:12
Hebrews 4:14-16, 5:7-9
John 18:1-19:42
Reflection:
Good Friday came alive for me the year one of my sons was an 8th grader, and his class was acting out the Stations of the Cross. He was chosen to drive the nails in Jesus's hands and feet. I had been pursuing a relationship with Jesus and was closer to Him than I had ever been in my life. When Jesus came by the pew I was sitting in, dragging the cross, He fell in the aisle right next to me, and I burst out crying. His falling hit me deeply because this was the first time I had gone through the events of Holy Week with Jesus as my best friend. It was all I could do to stay in my pew and not jump up to help Him.
Then when they finally got to the front of the church and my son had to nail Jesus to the cross, I lost it again. I felt ashamed that my son was the one inflicting that unspeakable pain onto Jesus and yet I was also convicted that I was the one nailing Him to the cross because of my sins. We all helped nail Jesus to the cross and we all need a savior. The most amazing thing about His sacrifice is that "He died for us while we were yet sinners".  He loves us so much that He chose to endure the pain of His passion and death because of His amazing love for each of us. Thank you Jesus!
As a mom, I was hoping my son would portray Jesus, and yet I think it was more powerful for me because he didn't. Also, as a mom, it's nearly impossible to imagine what Mary went through as she stood at the foot of the cross and watched her only Son die such a shameful and agonizing death. It seems to me that most moms suffer as much if not more when they have to watch their children suffer. And so we thank you too Mary, for your example of trusting in God's plan, even when it seems hopeless and useless. May we all learn that kind of trust and cling to You, Lord when things in our own lives don't make sense and life seems unbearable.
Lord we bow before you today and thank you from the bottom of our hearts for your sacrifice and for your willingness to die so that we can live with You forever.
Janice Carleton and her husband Jim live in Portland, OR and partner with Passionist Fr. Cedric Pisegna in Fr. Cedric Ministries. She is the mother of 4 grown children and grandmother of 6. Janice also leads women's retreats and recently wrote her first book: God Speaks to Ordinary People – Like You and Me. Visit Janice's website at http://www.janicecarleton.com/ or email her at [email protected].