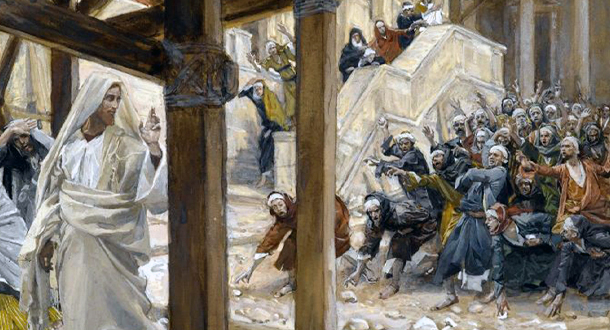 Scripture:
Jeremiah 20:10-13
John 10:31-42
Reflection:
In our Gospel reading from John, some of the people are ready to stone Jesus. When Jesus asks which good work did He do to provoke them, they answer: "We are not stoning you for a good work, but for blasphemy. You, a man, are making yourself God."
Jesus uses Scriptures to explain Himself to them, and eventually says, "If I do not perform my Father's works, do not believe me; but if I perform them, even if you do not believe me, believe the works, so that you may realize and understand that the Father is in me and I am in the Father." But this does not seem to persuade them all, and they try to arrest Him, but Jesus escapes.
I find myself thinking about "believe the works." What are the "works" that Jesus is talking about? As I see it, they are works of healing (the man born blind), of feeding the hungry (the multiplication of the loaves and fish), of answering people's needs (the wedding at Cana), among others. We know that Jesus would later perform the great work of our redemption and reconciliation.
For me, the same challenge that Jesus faced we face today. We may share the Good News about Him, and many may not believe. And so, our challenge may be, then, to do good works, by the grace of God, so that even if people won't believe what we say, they can at least believe in the works, and see that love and hope, peace and justice, and joy, can and do exist, and there is a God who is the Source of it all.
May we follow Jesus in doing good works.

Fr. Phil Paxton, C.P., is the local superior of the Passionist Community in Birmingham, Alabama.