Scripture: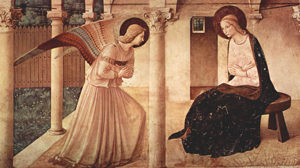 Isaiah 7:10-14; 8:10
Hebrews 10:4-10
Luke 1:26-38
Reflection:
The Annunciation of the Lord
With the Easter Alleluia's still fresh on our lips, we today hear the humble words of Mary at the Annunciation of the Lord:  "May it be done to me according to your word"…Fiat!    This 2016 Liturgical Year finds the "regular" date of the feast of the Annunciation on the Good Friday of Holy Week, and thus we're encouraged to not miss out on the beauty of this Feast by its transfer to today, the Monday of the 2nd week of Easter.  We have good reason to rejoice with Mary – and to commit ourselves once again to God's Plan for us.
The Gospel selection from Luke provides us with the familiar details of this feast:  the angel Gabriel was sent to the betrothed Mary, addressing her as "full of grace".  She was asked to conceive in her womb and bear a son, to be named Jesus…"Son of the Most High".  Mary's response was tinged with the feelings that grip us all when we hear a challenging message and which requires a sincere personal response.  Reassured of God's love for her and God's Life at work in her, she said "fiat"…Yes!…and her life was changed — as was the history of all creation!
The story of the Annunciation of the Lord is welcome "good news" for Mary, and for each of us and our world!  Mary's "yes" helped give flesh to the Good News of God's merciful love for all creation in the person of Jesus who lived, taught, healed, suffered, died and rose for us…ultimately encouraging those Alleluia's we've been singing these days, and God's redemptive love that helps us face all the challenges of life.
Today's feast celebrates Mary's vocation as mother of our redeemer, Jesus – and as we just heard on Good Friday, our mother as well.  She is lovingly present to us and encourages each of us in our vocation, be that as married, single, or priestly/religious people.  Like Mary, we face many challenges and opportunities and can benefit by Mary's humble example in our "fiat" to the action of God in our lives, our call to lead lives that help give flesh to Jesus' love for our 21st century world.
No doubt Mary had great joy in her heart as her life unfolded after the Annunciation.  As we continue to celebrate these days of God's Easter love for us, may that same Annunciation / Easter joy radiate from our lives as we live our vocations and proclaim and give flesh to God's mercy and love for our world.
With Mary we say:  Amen!  Alleluia!

Fr. John Schork, C.P. is a member of the Passionist community in Chicago, Illinois.