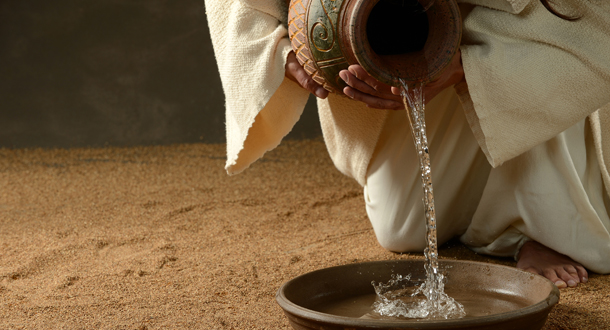 Scripture:
Isaiah 49:1-6
John 13:21-33, 36-38
Reflection:
Discipleship: Called from birth…to give one's life
We're about the "holiest of weeks", experiencing in and with Jesus the ultimate expression of Divine Love: The Eucharist, His Crucifixion and death, and ultimately His Resurrection. We pause these days and ponder the life-giving Good News of Love in Jesus Crucified, encouraged by our Holy Founder St. Paul of the Cross.
Today's Scripture from Isaiah 49 chronicles the life and mission of the Suffering Servant of the Lord; no doubt this helps focus our prayer and activities in the person of Jesus. Called from birth, a "sharp-edged sword…", a servant of God's restorative love — and a "…light to the nations, that salvation may reach to the ends of the earth…" Such a "chronicle" encourages our prayer in the Responsorial refrain: "I will sing of your salvation."
The Gospel selection from John 13 relates Jesus reclining at table with his disciples, having just washed their feet and setting the example for them to follow: selfless service. We hear that Jesus is "deeply troubled" by the coming betrayal of one of the disciples, prompting their confusion and sense of loss at the meaning of Jesus' words. Jesus states He is soon "going away" — and while unable to follow Jesus at that time, they will follow later…like Jesus, giving of themselves totally. Peter protests that he will lay down his life for Jesus; we know "the rest of the story" and his threefold denial…and much later, his own martyrdom. Yes, discipleship, the lived reality…
Jesus has touched our lives and called us to discipleship in our unique vocations and our unique locations. He challenges us to follow his loving example: to give of ourselves in helping share the Good News of God's Love in our world of various and intense human suffering, of injustice and hatred, of sickness of mind and body, of little respect for human life and the life of "mother earth". We may even deny Jesus as we fail to stand up for what is right, when we don't talk about our faith, when we assume the worst and fear change or sickness or aging or death. Yes, discipleship, the lived reality…
As 21st Century disciples, may these most holy days touch our hearts and give us new life and direction. Jesus invites us to follow his lead: yes, there is suffering and death in discipleship, but as Jesus' Life proclaims: Good Friday didn't spoil the weekend…Jesus Lives!! Jesus Loves!!
Fr. John Schork, C.P. serves as the Province Vocation Director and also as Local Superior of the Passionist Community of Holy Name in Houston, Texas.