Scripture: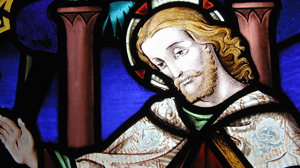 Daniel 3:14-20, 91-92, 95
John 8:31-42
Reflection:
This past week I was reading from one of the more prominent biblical authors, Raymond Brown who named three levels of believers in John's gospel.  First were those who believed.  These are the people who believed so whole heartedly that they were willing to die for their convictions and beliefs in the risen Lord. These are the people of John's community who through martyrdom brought hundreds of people into the faith.  The second group were those who refused to believe.  For example, the Fourth Sunday of Lent we listened to the religious leaders who were scrutinizing the man born blind.  They refused to see the man who had a physical and spiritual transformation.  Consequently they refused to believe, and purposefully chose to stay in their blindness so they could continue to refuse to believe.  Raymond Brown named a third category we never hear very much of. He was describing people who claim they believe but their actions never put them in line with the real believers.   I bring this up because today's Gospel addresses this third category.   The author states clearly that Jesus is addressing people who believe in him, but the content is a strong accusation and a judgment that they are not living out of freedom, they are not living out of the blessedness of their father Abraham, and indeed they were trying to kill him.   These are not the kind of people I would find very supportive in my ministry.  Yet John doesn't give up on them.  He is always trying to move them from initial belief or initial faith towards something more sustaining and more substantial faith.  Jesus isn't the supper nice loving Jesus we may desire.  Note, the accusations are blatant and certainly not watered down.  Jesus lights a pretty big fire under them to attempt to get them to move.
And speaking of big fires, in the reading from Daniel, King Nebuchadnezzar's livid rage faces off with Shadrach, Meshach and Abednego. It is the classic story we have all heard, and even read to our children and grandchildren.  On one level it is how God protected these three because they refused to serve the deity of the Babylonians or worship the golden statue.  Some people choose to listen to the Lord God's ability to protect and these three as they have chosen to suffer for the honor of what they believe.  But if you look a little deeper, the angel that was sent to protect the three from the heat of the flames also ends up cooling the flames of Nebuchadnezzar's wrath.  And out of the King's mouth are words of praise, as he blesses the God of Shadrach, Meshach and Abednego.   Indeed the King goes from the fires of rage to the sincerity of blessing the true God.
When this reading came up a few weeks ago for some of the grade school children in the parish, I was surprised at how quickly they caught on with the metaphor of this reading.  "You know, when you are about to get in trouble", I said to them,  "and things start getting  a little warm, or even hot ….. Do you ever take a moment to call forth God's angel?"  That is a lesson to learn, And Nebuchadnezzar gives us another lesson.  How do you move from livid rage to sincere words of blessing and praise to God?

Fr. David Colhour, C.P. is the pastor of St. Agnes Parish in Louisville, Kentucky.