Scripture: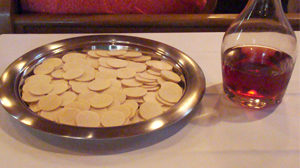 Reflection:
"Jesus then took the loaves, and when he had given thanks, he distributed them to those who were seated; so also the fish, as much as they wanted."    John 6:11
The Gospels are very fond of this memory of dining with Jesus.  The incident of the multiplication of the loaves is mentioned six times in the New Testament.  In Biblical tradition eating was considered a very special time of intimacy with family and close friends.  About one third of John's gospel takes place during a meal!   It was at this wonderful meal on Holy Thursday that some of the most beautiful words that were ever spoken are enshrined.
The Church and tradition has always associated these meals with the Eucharist.   These were wonderful times of closeness to Christ.  Jesus Himself cherished this Eucharistic meal at the Last Supper.  "I have earnestly desired to eat this Passover with you before I suffer."  LK 22:15   The words earnestly desired are a weak translation of the much stronger Greek word ep-ee-thoo-mee'-ah  which means to passionately  desire.  It is even doubled in strength by being repeated twice in same sentence.
The Eucharist was no afterthought in the Gospels. It was expressed with a depth of feeling found nowhere else in New Testament.   Pope John Paul II beautifully expressed this in his encyclical ECCLESIA DE EUCHARISTIA.
"The Eucharist, as Christ's saving presence in the community of the faithful and its spiritual food, is the most precious possession which the Church can have in her journey through history."  #9 "For the most holy Eucharist contains the Church's entire spiritual wealth: Christ himself, our Passover and living bread. Through his own flesh, now made living and life-giving by the Holy Spirit, he offers life to men".2 "Consequently the gaze of the Church is constantly turned to her Lord, present in the Sacrament of the Altar, in which she discovers the full manifestation of his boundless love."

Fr. Bob Weiss, C.P. gives parish missions and retreats.  He lives in the Passionist community in Louisville, Kentucky.