Scripture: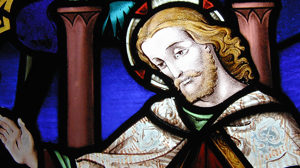 Reflection:
Peace, Do Not Be Afraid
The great appearance stories of Easter have passed us now: Mary Magdalene, Emmaus, Thomas, and Jesus' breakfast with his apostles. As we read John for the remaining 50 days we settle in with a quiet presence of Jesus. Instead of surprises Jesus teaches us, prays for us; he gives us of hope and the promise of the Spirit.
In the first five chapters of John's gospel people grapple with faith. In contrast to John the Baptist are new disciples. They use such titles as 'Messiah' and even 'Son of God', but we know their understanding is wrong. There are the 'Jews' who reject Jesus, but also a sincere seeker, Nicodemus; the Samaritan woman and her village welcome the gift of Jesus, and a royal official whose son Jesus cures, will believe in him. And there is Mary. Her openness to God's will enables God's plan to unfold, but it doesn't stop at Jesus birth. She continues to advance the plan of God a she calls her son to his hour by her faith in him at Cana.
As we finish our second week of Easter we might name Nicodemus as the spokesperson for these first five chapters of John. But we don't move to a new level of faith as we read now chapter six. It is again that basic question of faith. We see a heart breaking response as the chapter will conclude: some of his disciples left him. They found what he was saying too hard to take.
As we continue our journey through John he works to help us believe. The writer of the gospel tells us as he ends the gospel that the signs of Jesus that he records are meant to help us to believe.
How might today's brief gospel that follows the multiplication of loaves advance John's reflection on faith? Perhaps hearing Jesus say, 'do not be afraid, it is I,' is all we need? Another time Jesus tells the disciples that he is going to the Father and they need not be afraid since there will be room for all and no one is to be forgotten. He is the way. Indeed fear is a barrier to love, and trusting love makes it easier to believe.
Our gospel is set near Passover. We know that story: it is night, a fearful people begin a journey to they know not where, they come to water, the wind picks up and the water parts and they escape. But now Jesus' disciples find themselves dealing with water that becomes a fearful obstacle. There is no dry land to put their feet on but Jesus walks to them as if it were dry land. Then they are safe on the shore. There is no calming of the storm in John's story, but we hear Resurrection words of Jesus: 'Do not be afraid, it is I'. Are there two Passovers together here? The first Passover when the Jewish people set out from Egypt on their Exodus, and the Passover of Jesus from death to life; the Passover where Jesus meets us in darkness and fear, where he destroys fear and brings us over the waters of death to our true home.
Darkness and swirling waters may surround us even during these Easter days. Jesus says to us, 'Do not be afraid. I am with you'. Let us abide with the Rise One. Let us look and listen to the one who goes before us and bring us to safety. Be at peace.

Fr. William Murphy, CP is the pastor of Immaculate Conception parish in Jamaica, New York.